If you own an automotive shop that specializes in customization or collision repair then you know how important it is to be consistent with your work. Every part of a vehicle must be painted with the same excellent quality to ensure a job well done. Adding a drying room to your paint booth is the perfect way to keep your work consistently excellent, as well as reduce the amount of time it takes to finish your job.
A Drying System Will Boost Your Performance
Picking the right drying system for your paint booth will ensure that your finished product has no streaks, flakes, or bubbles. It dries all of the paint evenly by using airflow technology and adding additional heat between a range of 40° to 215° F. This makes the drying system a valuable asset for anyone working with paint, lacquer, or other types of finishes.
Here are some benefits to buying a drying system for your paint booth:
All of the Accudraft paint booths are compatible with a drying system.
Your drying system will greatly reduce chemical emissions – this is especially important if you live in an area with strict environmental regulations.
It improves the quality of your work and guarantees that every finished product has the same level of excellence.
A drying system reduces the time it takes to dry a product – sometimes in much as half the time.
The drying system's adjustable temperature settings let you use it when painting other objects, like furniture and textiles.
Things You Should Know
There are a number of different drying systems on the market, so finding the right drying system for your paint booth can take time. Because most systems cost between $6,000 and $12,000, it's important that you find one that performs all of the functions that you need to improve your productivity. Here are some tips that will help you as you plan to buy your first drying system:
1. Make Sure that the Drying System Works with Your Paints
You don't want to invest a small fortune in a drying system only to find that it isn't compatible with your current paint booth. Take the Xcelerator™ for example. It's a powerful drying system that is designed to speed up productivity and improve the quality of paint job. However, it works with waterborne paints. If you tried to install this system in a booth that sprays solvent-based paints, you'd likely find problems with the finished product.
The first step you should take before purchasing a drying system is to check the paint. Make sure that it's compatible with the type of paint that you use in your booth.
2. Check to See If the Drying System Fits Your Booth
You'd be surprised how easy it is to purchase a drying system that's incompatible with your booth. Whether you're interested in buying your first drying system or you want to upgrade the one that you're currently using, first check and see if it will work with your booth.
Many newer systems on the market have the ability to retrofit paint booths of all makes and models. However, if the drying system isn't clearly advertised as being universal, it's safe to assume that it's not. If you have a difficult time finding out if a drying system is compatible with your paint booth, contact the drying system's manufacturer. They should be able to help you determine if their product is a good fit for you.
3. Choose a System That's Energy Efficient
It's no secret that running a paint booth costs a lot of money in utilities. Choosing a good drying system can actually help you reduce the financial burden that comes with powering your business. All you need to do is find a system that has energy efficient features.
Some drying systems are able to save you as much as 50% on your power bill. Find a system that markets itself on being green and eco-friendly. These system typically reduce energy consumption. Look for features like recirculation heaters and the ability to integrate with digital control panels.
4. Avoid Drying Systems That Use Compressed Air
Compressed air doesn't affect the quality of your paint, but refilling and replacing tanks can become a hassle. There are a number of high-quality systems on the market that make use of powerful turbines to generate air.
Part of running a drying system is efficiency. With fan-based drying systems, the drying process guarantees to work as long as you have electricity. Don't risk having to suspend your project while you scramble to refill your air tanks, choose a drying system for your paint booth that uses high RPM turbines.
5. Ensure That the Drying System Gives Full-Coverage
When choosing a drying system for your paint booth, pick one that distributes air and heat evenly. This is especially important when painting large items like entire cars and trucks. A system that dries objects effectively will reduce the chances of wet spots and will help boost your overall productivity.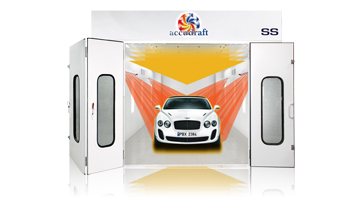 Get a Drying System That Does It All
If you work with waterborne paints and you're looking for the best drying system for your paint booth, consider the Xcelerator™ by Accudraft. This state-of-the-art drying system ensures that you get an excellent paint job every time.
Here are some of the features that set the Xcelerator™ apart from its competitors:
Maximum Compatibility
If you're already using an Accudraft paint booth, you'll be happy to know that your booth is capable of running the Xcelerator™ system. This drying system can be easily installed in all Accudraft booths. People using the dual paint TITAN™ paint booth should note that Xcelerator™ only works when spraying waterborne paints.
You can also use the Xcelerator™ system even if you're not painting with a booth made by Accudraft. One of the features that makes this drying system uniquely special is that it fits all spray booths that are currently on the market. You'll still be able to enjoy the cutting-edge technology of the Xcelerator™ regardless of your paint booth's age and manufacturer.
Complete Drying Coverage
Every module on the Xcelerator™ is equipped with eight adjustable aluminum nozzles, and the system has a total of 32 nozzles that distribute air evenly in the booth. Each nozzle jet is adjustable to face virtually any direction. Therefore you can modify your air jets based on the size of the object, so everything is dried efficiently, regardless of its size.
Improved Energy Saving
You can reduce the amount of energy it takes to run your operation by 50% with the Xcelerator™. One of the reasons is because the Xcelerator™ is powered by two sources: electricity and gas. In addition, the drying system uses turbines to generate air instead of an air compressor. This helps to reduce energy consumption by removing the strain that shop air compressors put on the air system.
You can also make the Xcelerator™ more energy efficient by adding SmartPad™ technology. Therefore you can completely customize the performance of your drying system and utilize only the features you need for your specific job.
Increased Customizability
If you choose to integrate the Accudraft SmartPad™ into your drying system, you'll have control over every step of the drying process. The SmartPad™ allows you to adjust the following components:
Cycle times
Temperature
Heat intensity
Burner settings
The SmartPad™ even lets you made modifications based on the current season. You can save energy by cutting back on heat during hotter times of the year, and boost your drying system's capacity in winter to increase efficiency.
Improved Performance Overall
The Xcelerator™ is a powerful drying system that is as versatile as it is efficient. Other features that it offers include:
The ability to cut flash and bake times by nearly half in optimal conditions.
Maximum durability – the module features a heavy-duty vinyl casing, and each jet nozzle contains high-quality aluminum.
Modules operate as pairs or can function fully independently.
An in-booth control system can be added, and SmartPad™ integration provides digital control over the system.
Jet speeds are adjustable for maximum efficiency.
If you're looking for consistency, quality, and efficiency the Xcelerator™ is a great product for you. It will increase your productivity while helping you cut back on your power bill, and since it's compatible with all paint booth models, you don't have to worry about modifying your workshop when you install it.
Get the Drying System You Deserve
The Xcelerator™ is one of many top-of-the-line Accudraft products that can improve your booth's performance. We also have a variety of special paint booths, mixing rooms, and prep areas that accommodate all shop sizes.
If you would like to know more about how the Xcelerator™ can transform your workshop, contact one of our friendly representatives. They will be happy to answer any questions that you have about buying and installing a paint drying system.