General
The Accudraft TITAN™ is a high powered downdraft paint booth specifically designed for any current or future waterborne facility. Using a 15 H.P. 1.5 Million BTU direct fire heating system with 20,000 CFM, the TITAN™ delivers airflow & heat specifications recommended by waterborne paint manufacturers. All Accudraft TITAN™ models come standard with the EnergySmart™ VFD package for the ultimate in electrical energy savings. The TITAN™ uses dual mode technology allowing the system to switch between water-based or solvent-based modes on the fly, making you able to paint today while being ready for tomorrow.
Product Photo (above): Accudraft TITAN™ downdraft with optional drive-through configuration.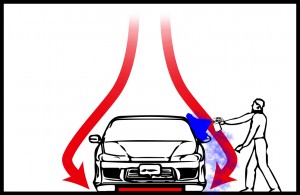 Downdraft Paint Booth Airflow Concept
The biggest advantage to a downdraft paint booth is cleanliness. Air is drawn around the vehicle or painted object and exhausted from underneath the object. Downdraft paint booths pull paint over-spray and contaminants downward and away from the painted object no matter where the painter is spraying. The risk of dust and over-spray contamination in the finish is greatly reduced and the painter is also in a much healthier and safer environment.
Features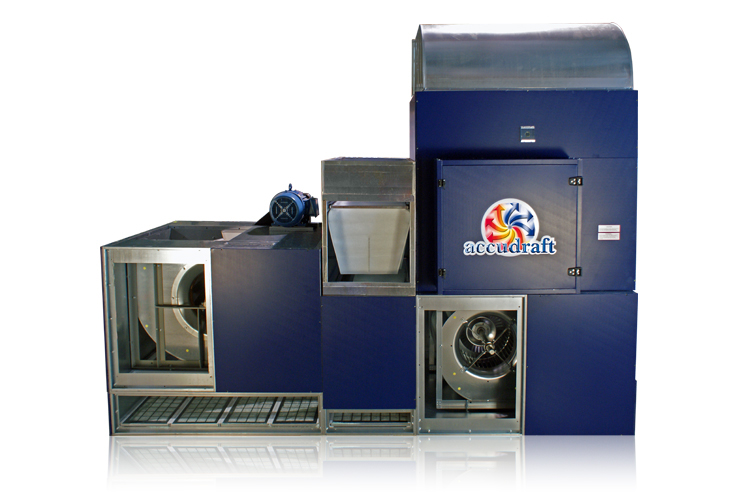 KD™ Series Integrated Air Makeup System
The KD™ Series air makeup unit is a completely integrated intake, heat, and exhaust system designed for high production downdraft paint booths. Forward curve and backward inclined turbines provide powerful airflow through the paint booth and recycled direct fire heating provides fast heating with maximum energy efficiency. Painters can put more jobs through the paint booth per hour and generate more profits for your business. more >>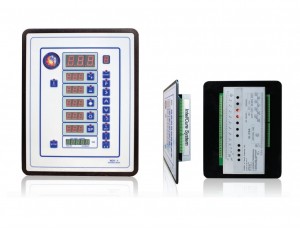 SmartPad™ Digital Controls
Accudraft's SmartPad™ digital control panel provides the user with all process information and settings in one compact and easy to read paint booth control unit. Choose between solvent and waterborne paint modes before you start. All processes are then automatic for that type of paint. The SmartPad™ can also integrate Accudraft's Xcelerator™ for the ultimate in paint drying speed.
Options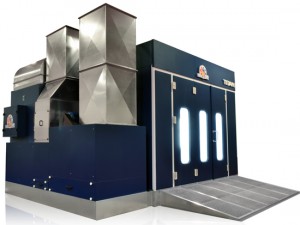 Pit-less Downdraft
The Accudraft TITAN paint booth system is also available in a pit-less downdraft design where the entire paint booth and mechanicals are installed on a raised steel basement with drive-up ramps. This  provides all the benefits of a downdraft airflow paint booth system without the need for expensive concrete work. A fully grated floor provides one of the cleanest finishing environments available.
The TITAN paint booth system is available as a weatherproof outdoor unit with all elements installed within a self contained enclosure. Valuable shop space is saved and installation downtime is completely eliminated. The entire system can be installed while the rest of the facility keeps right on working. more >>
Highlights:
Downdraft Paint Booth System
Dual Skin Paint Booth and Air Makeup Construction
Paint Booth & air Makeup Group Come in Your Choice of Exterior Color
Ultra-WhiteTM Non Reflective Vinyl Paint Booth Workspace Interior
Paint booth main doors include integrated red locking handles
All paint booth doors include full-height observation windows with wire-mesh reinforcement
20,000 CFM
Dual mode technology for drying solvent or waterborne paints
Reduces paint booth energy costs by up to 50%
EnergySmart™ variable frequency drive system standard
1.5 Million Btu/hr Heating system. Natural Gas or Propane.
Full heat recirculation (Minimum 15% fresh air by code)
Options:
Xcelerator™ Waterborne paint drying system
Pitless Downdraft Basement
Outdoor Paint Booth Application
Length and Width Extensions
Drive Thru
Observation Windows in Walls
Overhead Paint Booth AMU
Timeless™ Direct Drive Paint Booth AMU