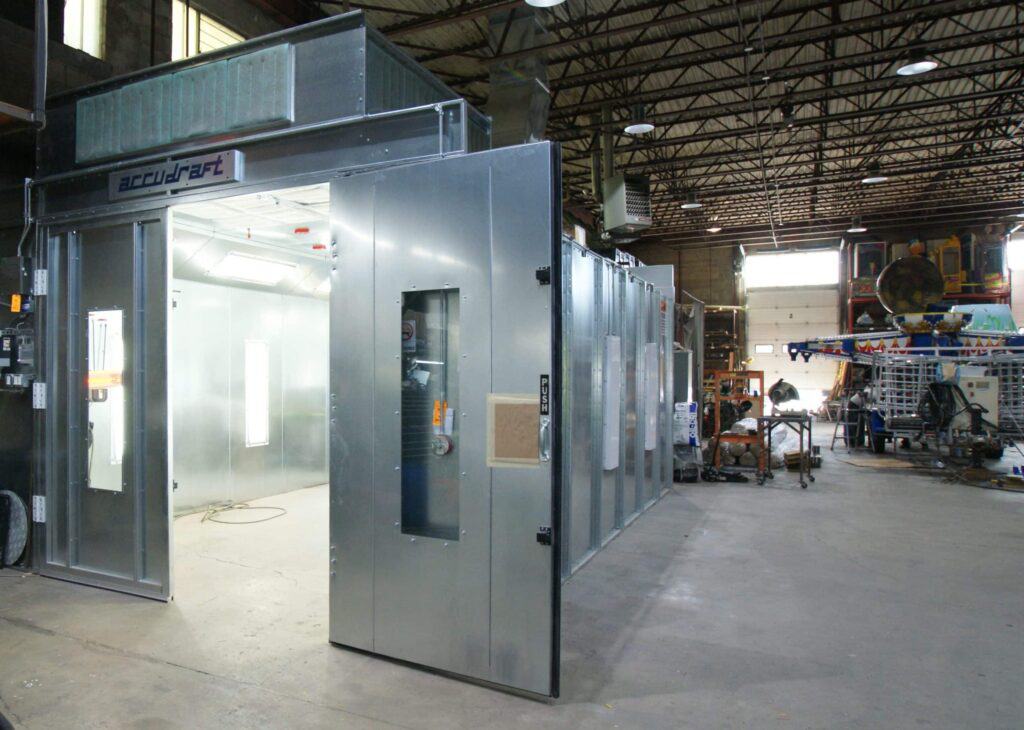 Zamperla is a multi-national company that specializes in manufacturing amusement park rides all over the world, including the United States.  Along with manufacturing and distributing equipment, they also operate a number of parks, including Luna Park and Victorian Gardens in New York City.
As a global leader in the amusement park industry, Zamperla is committed to ensuring that all of their equipment and rides are in top condition – both in terms of looks and performance. Maintaining aesthetics is an important part of every amusement park, which meant that Zamperla had to spend a lot of time touching up their equipment and making their park look welcoming to all guests.
The Challenges
Equipment at amusement parks tends to get a lot of superficial wear and tear in a short amount of time. They are used throughout the day by a number of different people, and over time, the rides become scuffed, worn, or damaged from heavy use. Unlike other industries, amusement parks have to keep their equipment looking brand new at all times. As soon as a ride starts to look worn and distressed, visitors begin to question the quality of the park and whether the rides are being properly maintained. For this reason, it is absolutely essential for park owners to inspect equipment and ensure that they meet beautification standards at all times.
Due to the busy nature of the amusement industry, upholding Zamperla's beautification standards turned into an ongoing project. Heavy usage from visitors and constant exposure to the elements mean that there is never a shortage of beautification work to be done at Zamperla's two New York City parks. And in order to keep up with the maintenance schedule, they needed equipment that maximized productivity and reduced downtime.
How Accudraft Helped
After listening to the unique needs that the Zamperla Team faced, Accudraft came up with a way to help them cut back on production time so they can complete more maintenance work throughout the day. Accudraft understood that the downtime of equipment and rides is a major concern in the amusement park industry and that Zamperla would need something more specific than a standard automotive paint booth.
Fortunately, Accudraft had just the equipment to help Zamperla maintain more than 40 rides at Luna Park and Victorian Gardens. This was achieved by designing a state-of-the-art spray booth that reduced the chance of error and reduced drying times through enhanced airflow and controls.
Since Zamperla needed improved efficiency and high quality with each paint job, Accudraft opted to go with semi-downdraft booths. The benefit of using downdraft technology meant that their rides wouldn't be exposed to dust, debris, and contamination while being painted. Since semi-downdraft booths reduce the likelihood of overspray and imperfections, the Zamperla team didn't have to worry about painting the same object twice.
The Results
After making the switch to Accudraft paint booths, the team at Zamperla were able to touch up their rides and equipment in half the time. Thanks to Accudraft's semi-downdraft design and high-tech controls, all of the rides at Luna Park and Victorian Gardens look brand new. And now that Jay and his team don't have to spend as much time focusing on maintenance, they've been able to come up with fun and exciting ways to entertain visitors.
"We've heard a lot of good things about Accudraft in the past, but this is the first time that we actually got to see what makes their paint booths better than the rest," said Jay Crisler, Zamperla's Head of Engineering and Service. "After listening to our demands, the folks at Accudraft were quick to help us develop a strategy that targeted each and every one of our company's needs. Once we had the paint booths up and running, touching up our equipment was a breeze – and it's been smooth sailing ever since."
As the industry leader commercial paint booth technology, Accudraft has the equipment and expertise to help companies like Zamperla come up with ways to improve production while developing a product increases customer satisfaction.
There is no job too big or too small for Accudraft, and they are committed to providing superior paint booth technology that lets all businesses meet their unique goals and relieve unnecessary stress.
With their line of automotive, industrial, and aerospace paint booths, Accudraft is able to meet the demands of every project – from amusement park maintenance to painting city railcars.
Connect
www.zamperla.com
49 Fanny Road
Boonton, NJ 07005