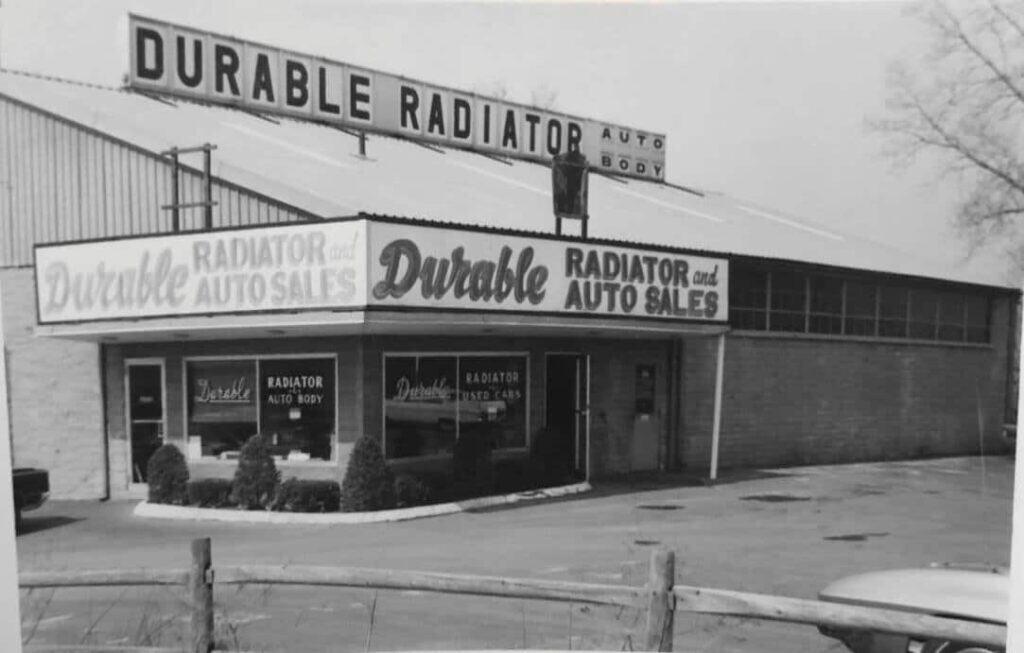 For over 100 years, Durable Radiator Auto Body has been around to provide service to the Waterbury, Watertown and Naugatuck areas in Connecticut, as well as surrounding communities. Alexander Geremia, an Italian immigrant, established Durable Radiator Auto Body in 1909, a company that would become a family legacy. The fourth-generation family owned, and operated business provides full service and auto body repair, with an ultimate goal of providing the highest quality repairs in a timely and efficient manner. Durable Auto Body provides a wide range of services to their customers ranging from collision repair, brake replacement, general automotive repairs and preventative maintenance, extensive auto body repair, tinting, painting, glass replacement and repair and so much more.
Durable Auto Body is committed to continuing their legacy of outstanding customer service, while providing competitive rates and the highest quality work in the area. The team will always treat your vehicle as if it were their own, and they offer incredible communication to keep customers updated throughout the repair process, including text message and email contact. The shop also has Avis Budget Group car and truck rentals available on site for customers who are in need of substitute transportation while their vehicle is in the shop.
Durable Auto Body offers high quality repair services in a timely manner for all personal vehicles, as well as commercial trucks. No matter what your repair needs are, Durable is the best one-stop-shop option for all car and truck needs in Waterbury, CT and the surrounding areas. Additional areas served include Watertown, Naugatuck, Litchfield County, New Haven County and the Northwest area.
The Challenge
Durable Radiator Auto Body has been a longtime Accudraft customer since 1987. Their first purchase was the Omega booth, which is still going strong! The shop is dedicated to being the go-to auto body repair shop in their community and surrounding areas, which means that they need to keep the shop, tools and technology up to date. As the business continues to maintain a loyal customer base, while continuously expanding and reaching new clientele, they were ready to upgrade to a new Accudraft booth so they can continue to provide high quality work and finishes without sacrificing time and service.
How Accudraft Helped
Durable Auto Body already had an impressive collection of Accudraft products within the shop. Their first purchase was the 1987 Omega booth, then they installed a 2001 Downdraft paint booth, which greatly improved their production and quality. In fact, they are so confident in their work and quality of service that any paint job completed at Durable Auto Body comes with a lifetime warranty.
The newest addition to the Durable Auto Body shop is the Titan Downdraft paint booth – our flagship booth! Our very own John Garde recommended this booth to Durable as it offers the ultimate in spray booth technology and high-speed finishing production. The Titan is specifically engineered for the latest waterborne paints and allows the shop to complete more jobs faster, while saving up to 50% on energy costs. The unmatched downdraft airflow and contamination control make it possible for the paint technician to do their job quickly, efficiently and beautifully without sacrificing quality.
In addition to the Titan Downdraft paint booth, Durable also opted to bring a dual skin mixing room to the shop so they could have a compliant area to mix paint and store other tools and supplies as necessary. A dual skin room is designed to further protect the workspace outside of the booth – the area next to the room remains relatively undisturbed while work is being completed within. This means that the rest of the shop can continue to work without feeling miserable from additional heat or fumes.
The Results
With the addition of the new Accudraft Titan paint booth and mixing room, Durable is able to take on more jobs without sacrificing quality and service. The shop has a strong reputation of excellence to uphold in the community and among the local auto body collision repair industry. With a 100-year legacy, Durable is able to continue to serve their loyal customers while expanding their business, increasing productivity and offering new services.
"Our first booth from the 80s is still operating, the side loader from the 90s is still going strong and our new Titan is awesome. Especially the new attached mix room is great, and it offers ease of use. Accudraft is reliable, dependable and durable!" – David Geremia, Owner
Durable offers customers the confidence, expertise and service of the oldest and most reliable vehicle repair shop in the area. Whether looking for general vehicle maintenance, a paint job or body work, the staff at Durable Radiator Auto Body will guide you through the process, keep you informed at every step and get you back on the road in a timely manner.
Connect:
Durable Radiator and Autobody, Inc.
393 Thomaston Ave.
Waterbury, CT 06702
Phone: 203 – 753 – 0067
Connect with them on Facebook
Visit their website