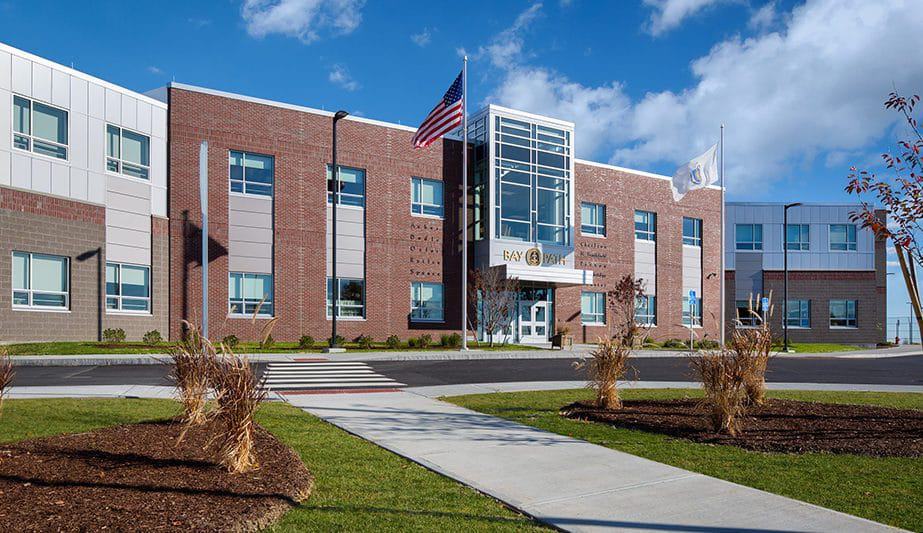 Improving Automotive Collision Repair Education
According to Body Shop Business Magazine's State of the Industry report, the auto body industry is still fighting the dilemma of an aging workforce and not enough younger people interested in replacing them. But positive signs are all around.
Bay Path Regional Vocational Technical HS in Charlton, Massachusetts is one such shining star —leading the way in automotive collision repair education.
In their state-of-the-art educational program, students are trained in all aspects of the trade —from refinish and spraying techniques to rust and collision repair, and everything in between. Instruction includes the use of all basic and hand pneumatic tools, while working on actual vehicles.
Below is a quick overview of the curriculum:
Freshman Year
Shop Safety
Power Tools
Masking Techniques
Surface Preparation
Hand Tools
Sophomore Year
Minor Damage Repair
Paint Safety
Protection Techniques
Safety of Shop Materials
Refinishing
Junior Year
Panel Replacement
Hands on Training
Color-Matching
Analyzing Damage
Glass Replacement
Senior Year
Collision Estimating
Frame Repair
Frame Straightening
Chief EZ Liner
Refining to Commercial Standards
Bay Path has been in the community since 1972, and offers a full range of services to the public in addition to educating students. Visitors can have lunch at the Hilltop Restaurant, grab a coffee and pastry from the Cafe, shop Bay Path apparel from the Minuteman Shop, get pampered at the Minuteman Salon, complete regular banking transactions at the in-house Southbridge Credit Union Branch, and more.
The Challenges
To meet the demands of their growing automotive collision repair program, Bay Path turned to Accudraft to design and install a paint booth configuration that would not only provide an unparalleled learning experience for their students —but would also provide a top-notch product for customers.
Accudraft was charged with working within the school's budget to meet and exceed these expectations, while being conscious of minimizing downtime in the shop.
"We turned to Accudraft to help us expand our shop and to provide our students with the equipment they need to develop their collision repair skills," said Ray Beck, Instructor at Bay Path. "Our goals were to stay within budget, limit shop downtime, and give students access to the best possible tools in the market."
How Accudraft Helped
After careful consideration, two outdoor Accudraft Titan paint booths were selected, as well as a mixing room.
The Titan is a high-powered downdraft paint booth specifically designed for any current or future waterborne facility.  Using a 15 H.P. 1.5 Million BTU direct-fire heating system with 20,000 CFM, the Titan delivers airflow & heat specifications recommended by waterborne paint manufacturers.
All Accudraft Titan models come standard with the EnergySmart™ VFD package for the ultimate in electrical energy savings. And, dual mode technology allows the system to switch between water-based or solvent-based modes on the fly, making you able to paint today while being ready for tomorrow.
Perhaps the biggest advantage to a downdraft paint booth is cleanliness. Air is drawn around the vehicle or painted object and exhausted from underneath the object. Downdraft paint booths pull paint over-spray and contaminants downward and away from the painted object no matter where the painter is spraying. The risk of dust and over-spray contamination in the finish is greatly reduced and the painter is also in a much healthier and safer environment.
The Accudraft Mix paint mixing room was also added, which offers a clean workroom that can be free standing or integrated into any installation. The painter is able to stay in a clean environment while going back and forth between paint booths and loading up paint or juggling two jobs at once. Highlights of the mix room include:
Dual Skin Insulated Mixing Room
Custom Dimensions
Positive Pressure Downdraft System
The Results
Not only did the installation of the Accudraft Titan paint booths and mix room give Bay Path students access to some of the finest tools of the trade, Bay Path customers are receiving a truly unparalleled collision repair experience.
"There are so many positives to note! Our new Accudraft equipment has increased productivity all around, heat is almost instantaneous, and being able to go back and forth between water to solvent in the settings is truly state-of-the-art," says Beck. "And, the Accudraft service was fantastic."
Connect
Bay Path Regional Vocational HS
57 Old Muggett Hill Road
Charlton MA 01507
(508) 248-5971
Connect with them on Facebook