Transparency and Quality Runs in the Family
Larry Walker & Sons is a family-owned business in High Point, North Carolina. It specializes in automobile repair and collision repair and has provided the community with more than 40 years of excellent service. Their business model centers on transparency and building confidence in customers. Larry Walker & Sons believes that nobody should be forced to pay for automobile parts that they don't need and that all customers deserve a detailed explanation describing what's wrong with their automobile.
Larry Walker & Sons services residents of High Point, as well as people living in the Greensboro-Winston-Salem Metropolitan area. Their services include:
Giving estimates for repair work
Repairing unibody cars
Protecting working parts from corrosion
Providing refinishing services
Servicing and repairing airbags and air conditioning systems
Wheel alignments
Detailing cars
Larry Walker & Sons is certified to work on the following makes: Honda, Nissan, Acura, and Chrysler. Customers who use the company to repair their automobile can download the AutoWatch app on their Android or iOS device and monitor the status of their vehicle.
The Challenges
As Larry Walker & Sons continued to build the reputation of being the leading automotive repair center in the north-central region of North Carolina, their workload increased. Not wanting to sacrifice the standard of excellence that he built his business on, Larry Walker turned to Accudraft for help improving his productivity.
Accudraft was responsible for coming up with a system that could speed up the production rate at Larry Walker & Sons without sacrificing quality.
"Our decision to go with Accudraft was based on their image as a cutting-edge company in the automotive industry. Anyone who provides collision repair knows who they are and what they do," said Larry Walker, owner of Larry Walker & Sons. "When I called Accudraft and explained my situation to one of their representatives, I was happy to find that they could help me meet my customers' needs and expand my business."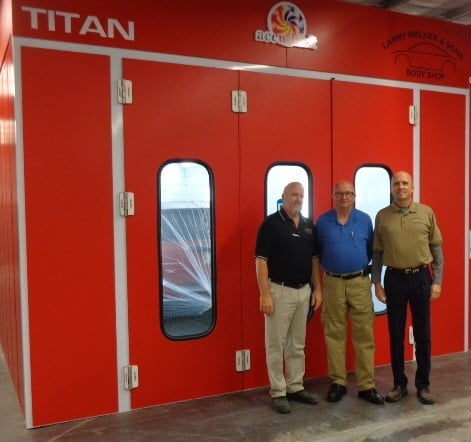 How Accudraft Helped
To help Larry Walker & Sons work efficiently and increase their productivity, Accudraft recommended two TITAN™ paint booths, a single skin Mix™ paint mixing room with 14' x 10' dimensions, and a PREP 4000™ prep station.
Larry Walker & Sons' TITAN™ paint booths come on a three-row pit and can be used with waterborne and solvent-based paints. They have a powerful 15 HP direct fire heating system that powered by natural gas or propane, and puts out 1.5 million BTUs. Every TITAN™ paint booth comes standard with the EnergySmart™ system. This helps businesses that service a high volume of automobiles cut back on their monthly energy expenses.
One of the biggest advantages of the TITAN™ booth is its downdraft technology. The downdraft feature pulls the air around the automobile downward, into the exhaust system in the pit below. This reduces spray and removes potential contaminants, ensuring a high-quality paint job.
The PREP 4000™ station also helped ensure that Larry Walker & Sons worked efficiently to deliver a high-quality finished product. The prep station came with curtains and a downdraft air filtration system, to prevent contaminants from entering and remove any dust and debris on the car. It also features a drive-thru configuration that allows automobiles to move from the prep area to the paint booth without ever leaving the workspace.
Highlights of the PREP4000™ station include:
An unlimited number of working bays can be added
Effective downdraft design
Can be fitted with the AccHz™ Energy Saving System
Heavy-duty curtains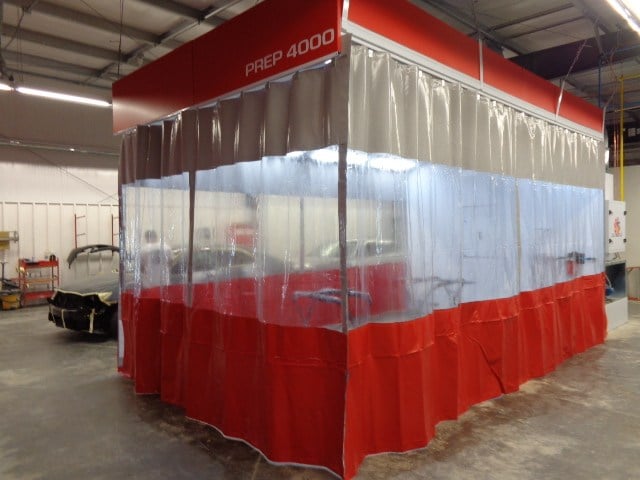 In order to ensure the safety of the technician and preserve the quality of the paint, Accudraft added a Mix™ paint mixing room to the workshop. Here, the painter can prepare and load up paints in a clean workspace.
Highlights of the Mix™ paint mixing room include:
Customized dimensions
The choice between single or dual skin insulation
The option to add observation windows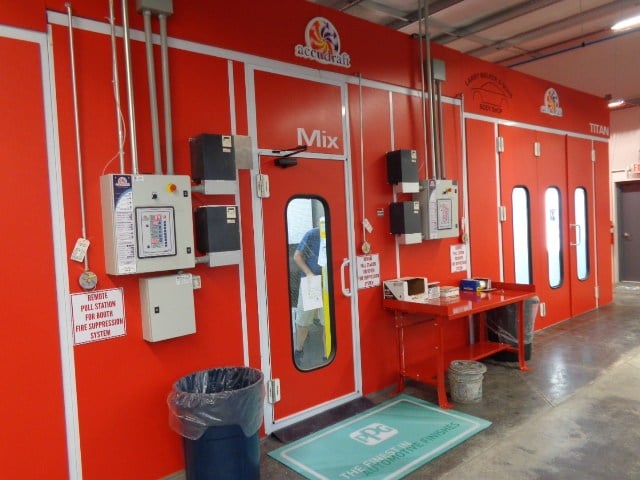 Larry Walker & Sons relied on David Lester with ShopSource in Roanoke, VA for distribution and installation.
The Results
The team at Larry Walker & Sons has been able to maintain customer satisfaction by reducing their turnaround time without sacrificing quality and customer service. The TITAN™ paint booth, mix room, and prep station enable Larry Walker's staff to service more than one automobile at a time while consistently delivering a perfect finished product.
"Accudraft has helped us take our business to the next level. These new products have given us the tools to meet the needs of our customers in a timely fashion. We're now able to increase our workload without feeling tired and overburdened," says Larry. "Thanks to Accudraft, our customer satisfaction has gone through the roof. More people are referring us to their friends and family!"
Connect
Larry Walker & Sons
5915 Surrett Dr
High Point, NC 27263
(336) 861-4543