Background
For more than 20 years, Diehl Automotive has made it its mission to ensure that every customer that steps foot in their showroom leaves happy and satisfied. The business is family-owned and operated and has been the top choice of drivers in the Pittsburgh area looking for the finest quality cars, trucks and SUVs at affordable prices. Not only can customers explore the incredible inventory that offers the newest models, but as a Jeep Dealer for Pittsburgh they proudly carry the latest SUVs as well as a wide selection of pre-owned vehicles. Each vehicle always undergoes thorough inspections to guarantee the best quality for its driver.
Not only does Diehl auto specialize in providing the finest vehicles for their customers, but Diehl Collision, body shops and collision repair also perform the most difficult and demanding repairs to bring your car, truck or SUV back to its original form. Diehl Collision Centers only work with the most qualified, experienced and certified technicians who take the time to fix, inspect and ensure that your vehicle will be safely back on the road for many years to come. Some of the services offered by Diehl Collision Centers includes:
Direct repair with most insurance companies
Complimentary estimates
The convenience of onsite rentals, and the assistance of staff with reservations
Quick repairs
Availability of pickup and delivery services
Complete vehicle reconditioning
Availability of eco-friendly waterborne paint solutions
I-Car Gold Certified technicians and management
The team at Diehl Auto stands behind their work, and best of all they offer free estimates and a limited lifetime warranty on all of the bodywork they perform. Whether you've been involved in an accident and your vehicle suffered body damage, or you're looking to add some custom details to your car, the staff will work with every customer and walk them through every step of the process to get them back on the road quickly and safely.
The Challenge
The Diehl Collision Center can repair anything from small dents and scratches to full body damage repairs and restorations. They also work on any make or model of vehicle and can have it looking like new again in no time, which is why they are the preferred body shop and collision center in Western Pennsylvania and the surrounding areas. As the collision center continuously met with new customers, they saw an increase in business and needed to expand the body shop and equip it with new technology to keep up with demand.
How Accudraft Helped
The Diehl Collision Center is a busy shop that works on various makes, models and sizes of vehicles, which meant they needed different equipment to accommodate all of their customers. Accudraft supplied Diehl's with a Titan Downdraft Paint Booth, a Titan Alto to help accommodate sprinter vans, a mixing room and a Prep 5000 Station while Steve Steighner of API Distributor in Butler, PA handled the professional installation and setup.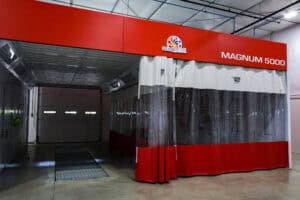 The Titan Downdraft paint booth is specifically designed for a facility that utilizes waterborne materials and offers the ultimate in spray booth technology and high-speed finishing production. Including this paint booth, along with the Titan Alto for bigger vehicles, allowed Diehl Auto to take on more jobs and complete them quickly and efficiently without sacrificing quality and customer satisfaction. Including the mix room and prep station created a safe and compliant space where technicians can mix paint, store equipment, wash guns and work on additional vehicles that are in need of limited finishing. The prep station is a free-standing area that is big enough to accommodate large vehicles and provides additional space so multiple jobs can be completed simultaneously.
The Results
The new Diehl Collision Center is larger and more equipped than ever before, which has taken their business to the next level. Accudraft equipment is top-notch and allows technicians to do their work in a timely manner, without sacrificing quality and craftsmanship – in fact it makes it easier for them to do their jobs and be able to take on more customers without feeling overwhelmed. Diehl Collision Center is committed to providing the finest customer service in town while ensuring every vehicle not only runs well, but also looks incredible. Whether a car has unsightly scratches, dents, dings or is in need of collision repairs, with the help of Accudraft technology and equipment, Diehl's will get the job done perfectly every time.
Connect:
Diehl Collision Centers
Corporate Collision Center Director: Matt Whittenberger
5317 Campbells Run Road
Pittsburgh, PA 15205
Phone: (412) 722 – 1800
Connect with them on Facebook
Visit their website