Background
Auto Body Concepts is a family owned and operated business with a rich history that focuses on providing full-service collision and auto body repair to customers from their two locations – Ardmore, OK and Gainesville, TX. Owner Dan Ott has diligently worked to ensure that the business is set apart from others by providing unparalleled commitment and dedication to their customers. Instead of wasting time on partnerships with insurance companies and towing companies, Auto Body Concepts focuses all of their efforts in ensuring their customers always come first and that they are always satisfied with the services provided. This also means that Auto Body Concepts will handle everything for their customers, including towing at no additional cost, and assisting clients with a rental car or negotiating with their insurance company.
The entire staff at Auto Body Concepts is highly trained, and they are also a certified refinishing center. They handle everything from basic repair, refinishing and precision repairs for local car dealerships and all insurance companies. Customers can also look forward to a written lifetime guarantee on any work done on their vehicle, as well as free pickup and delivery and complete detailing. Auto Body Concepts works hard to ensure that the collision repair process is as worry free as possible and that every client leaves feeling taken care of and satisfied.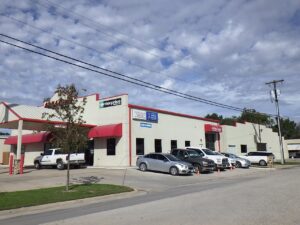 The Challenge
In order to remain competitive in the industry, and to ensure customer satisfaction on every repair, the team at Auto Body Concepts understood the need to invest in the most advanced tools and equipment. The body shop only uses the best of the best in their shops and they were looking to take their work to the next level. Ongoing training is consistently offered to the staff through numerous industry sources, and by providing staff with new advancements in technology the team ensures that the quality of work is always top of the line and that the team has the tools they need to complete their jobs efficiently, responsibly and flawlessly.
How Accudraft Helped
Auto Body Concepts selected to install a 26' Accudraft Italia downdraft paint booth in both of their facilities. The Italia has a 40-year reputation for speed and durability and is known as Accudraft's flagship downdraft paint booth system designed for high production. This paint booth offers incredible value, the highest energy efficiency in the industry, advanced technology, extreme versatility and custom configuration options as well as durability and a promise to last for decades. The Accudraft Italia paint booth continues to be the most popular on the market for its superior performance.
In addition to the Italia downdraft paint booth, Accudraft supplied the body shop with an Accudraft paint mixing room, which is an extremely beneficial and important piece of technology to the flow and functionality of the shop. A paint mixing room is specifically engineered to control contamination and to ensure that harmful fumes are filtered out so that the facility remains ventilated and clean. The top benefits of Accudraft paint mix rooms include cutting down on waste and pollution and reducing health hazards by increasing safety.
The Results
After installing the Italia downdraft paint booths at their facilities, Auto Body Concepts has seen a drastic increase in productivity. The drying time for their work has been cut down to 45 minutes because they use Accudraft Xcelerator Fans, which saves them several hours. Additionally, by using the pain booths in conjunction with the Ultra 9K paint line, Auto Body Concepts has been able to significantly reduce its emissions and impact on the environment. The lighting in the Italia paint booth was also upgraded to energy efficient LED lighting, which gives finishes a truer color and provides the shop with incredible energy savings. The lighting in a paint booth can significantly affect the quality of the work and also impact the health and safety of the engineers who work in the paint booth. Accudraft assisted the body shop with selecting the best products for their unique needs along with quality upgrades to ensure the shop maintains energy efficiency and provides a safe environment for all staff.
"Accudraft made the purchase and installation easy and efficient. Everything was installed properly and worked well from our first use. There is no comparison between what we have used in the past and what Accudraft does for us. We save time and money, and our customer satisfaction rating speaks for itself. We are extremely pleased with the Accudraft Italia downdraft paint booths."
– Dan Ott, Owner Auto Body Concepts
Connect:
Auto Body Concepts
225 N Rockford RD
Ardmore, OK 73401
Phone: (580) 319 – 4742
601 US Hwy. 82
Gainesville, TX 76240
Phone: (940) 668 – 1300
Connect with them on Facebook
Visit their website