Unparalleled Service and Accessibility
Spartan RV & Marine is a family-owned business that provides RV and boat repairs and customization in Oakwood, Gainesville, and throughout much of Northeast Georgia. The company is operated by Aaron Price, Jay B. Smith III, and Heidi Smith Price. The three have extensive experience working with boats and RVs, as well as providing collision repair, custom paint jobs, and fiberglass services.
Along with providing an unparalleled quality of service, other key features that set Spartan RV & Marine apart from their competitors is their friendliness and accessibility. Customers don't have to worry about surprises or a lack of understanding because Spartan RV & Marine's talented technicians and representatives always keep the lines of communication open throughout the repair process.
Customers in need of assistance in the following areas can reach out to Spartan RV & Marine for quick and reliable service:
Minor mechanical repairs for boats and RVs
RV and boat collision repair
RV repair caused by storm damage
Boat and RV cleaning and detailing
Boat and RV tune-ups and services for engines and electrical components
Assistance with RV and boat insurance
Spartan RV & Marine's number one goal is to provide customers with a level of quality and service that sets them apart from the competition.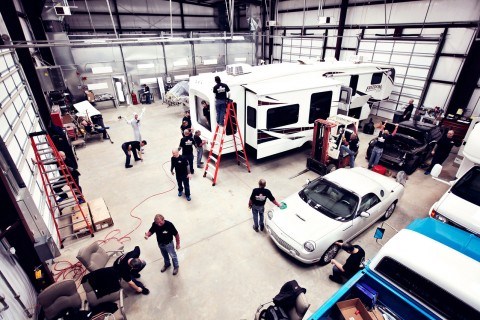 The Challenges
As Spartan RV & Marine's reputation of being one of Northeast Georgia's top RV and boat repairing facilities began to grow, so did the number of clients they served. It wasn't long before the company needed to expand their operation in order to keep up with their customer volume. Spartan knew it was time to upgrade their equipment once people began to travel from outside the Gainesville area to have their boats and RVs serviced or repaired by their crew.
A large portion of Spartan RV & Marine's work covered repairing and painting boats and RVs, so they needed equipment that could help them increase productivity without sacrificing their excellent craftsmanship. To help meet this demand, the company reached out to Accudraft for all of their expansion needs.
"We have a lot of friends that work in the industry who've said great things about Accudraft's products and their customer service, so we decided to call them up and explain our situation," said Spartan RV & Marine partner, Aaron Price. "I knew that Accudraft was an industry leader in automotive paint booths, but I didn't know that they also specialized in bigger operations as well. After getting off the phone with one of their friendly associates, I learned that Accudraft was able to give me everything that I needed to repair and paint RVs and boats."
Spartan RV & Marine used Georgia Spray Booth as their Accudraft distributor.
How Accudraft Helped
Accudraft is an industry leader in paint booth technology. They are able to meet the demands of all businesses, regardless of their size or volume. They were happy to help Spartan RV & Marine by adding a TX PRO Truck Paint Booth to their setup.
The fact that the TX Truck booth is fully customizable made it an ideal fit for Spartan. To ensure Spartan had enough space to handle large boats and RVs, the booth was built to be 57' x 20' x 16'. In addition, it was fitted with a drive-through mechanism so paint is less likely to be contaminated as it moves from the booth to other modules in the workshop.
In order to maximize efficiency while reducing the likelihood of overspray, streaks, and smudges, Spartan RV & Marine's new paint booth was built with downdraft technology that allows it to pull dirt and debris away from painted objects. This meant that every pained object received the same excellent quality coat of paint as its predecessors.
The Results
Accudraft's paint booths helped Spartan RV & Marine meet their customers' demands and exceed their expectations. Paint jobs and repairs are now completed at a much faster rate without sacrificing any of the excellent quality and craftsmanship that Spartan RV & Marine is known for. This helped the company become one of the most influential RV and boat repair centers in the region.
"Accudraft gave us everything that we needed and more. We're thrilled to announce that business has increased and customer satisfaction is at an all-time high since we contacted Accudraft for all of our expansion needs," commented Aaron Price. "After working with Accudraft paint booths, it's hard to imagine using anything else!"
Connect
Spartan RV & Marine
5245 McEver Road
Oakwood GA 30566
(770) 535-7335
Georgia Spray Booth (Accudraft Distributor)
Bob Johnson: [email protected]
Jeff Wright: [email protected]