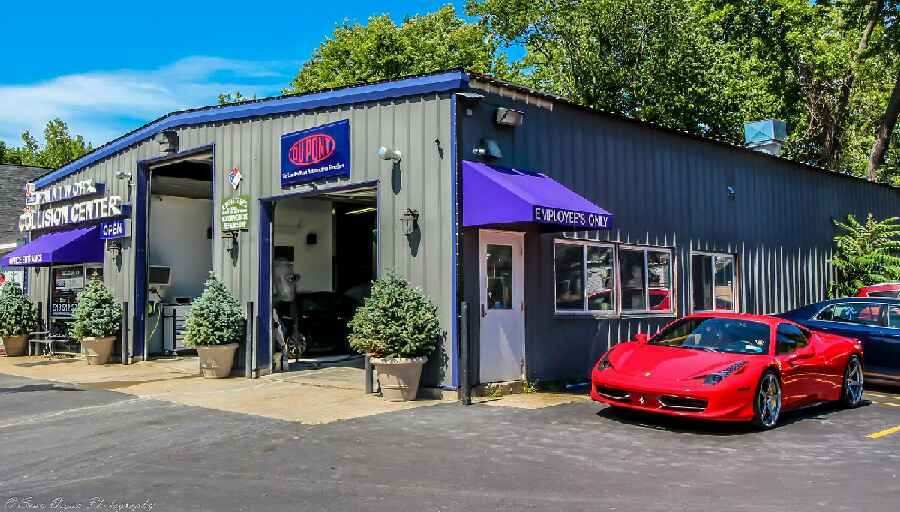 More Than Just Collision Repair
Paintworx Collision Center, located in Albany, New York, takes great pride in their professionalism and quality workmanship. Owner Dave Stumpf understands that customers have made a large investment in their vehicles and has created a company that puts the customer and their vehicle first.
A full-service repair facility, Paintworx works with insurance companies to settle claims quickly and efficiently, and backs all work by their Lifetime Guarantee.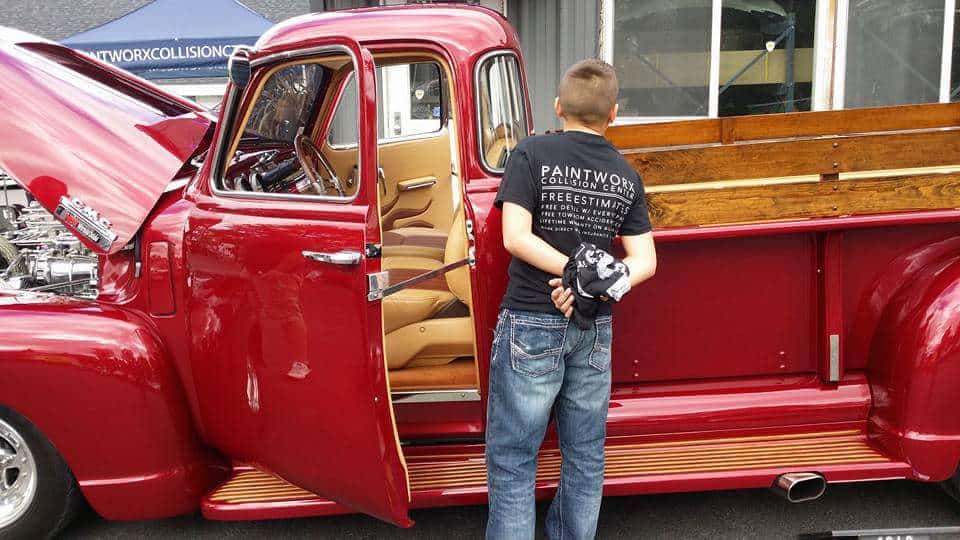 Their services include:
Free estimates
Complete collision repair and refinish
Lifetime warranty on all repairs
Laser frame measuring / uni-body straightening
Work directly will all insurance companies
Free complete detail on all repairs
The Challenges
A 22+ year veteran in the paint and body industry, Dave always knew when he opened his own successful collision center that he would outfit the facility with Accudraft equipment.
When it came time to make that dream a reality, Dave consulted with the Accudraft team to find the paint booths and mixing room that would:
Require minimal concrete work
Allow for future expansion and upgrades
Help increase production capabilities
Aide in providing superior results for customers
"At Paintworx, we only want the best for our valued customers. Accudraft booths are used by Lamborghini and Ferrari —and you can't get much better than that," said Dave. "We rest our reputation on our ability to provide an unparalleled, full-service repair experience from start to finish, and Accudraft helps us do that."
How Accudraft Helped
To meet the Paintworx Collision Center's needs, Accudraft team members recommended two MX 300 Semi Downdraft Paint Booths with an adjoining Mixing Room. Joe Emanuele at Gem Tool, Inc. installed the setup.
The Accudraft MX300 is a rear exhaust or "Semi-downdraft" model that does not require any concrete work, except for a level floor. This quick and easy installation appealed to Dave. The MX300 also allows for future upgrade capabilities including a jet drying system and/or energy saving VFD system.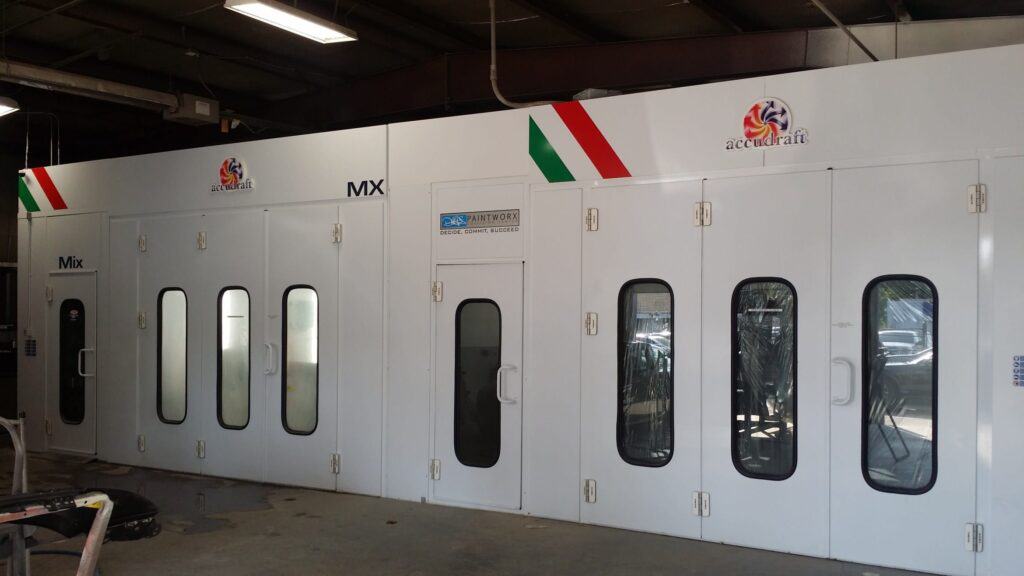 The highlights of the Accudraft MX300 include:
Modified Downdraft or "Semi Downdraft" Paint Booth System
Single Skin or Dual Skin Paint Booth and Air Makeup Construction
Paint Booth & air Makeup Group Come in Your Choice of Exterior Color (Dual Skin Only)
Ultra-White™ Non Reflective Vinyl Paint Booth Workspace Interior
All paint booth main doors include integrated red locking handles
All paint booth doors include full-height observation windows with wire-mesh reinforcement
The accompanying mix room, which was installed between the two paint booths, allows for a clean work room —the painter can stay in a clean environment while going back and forth between paint booths and loading up paint or juggling two jobs at once.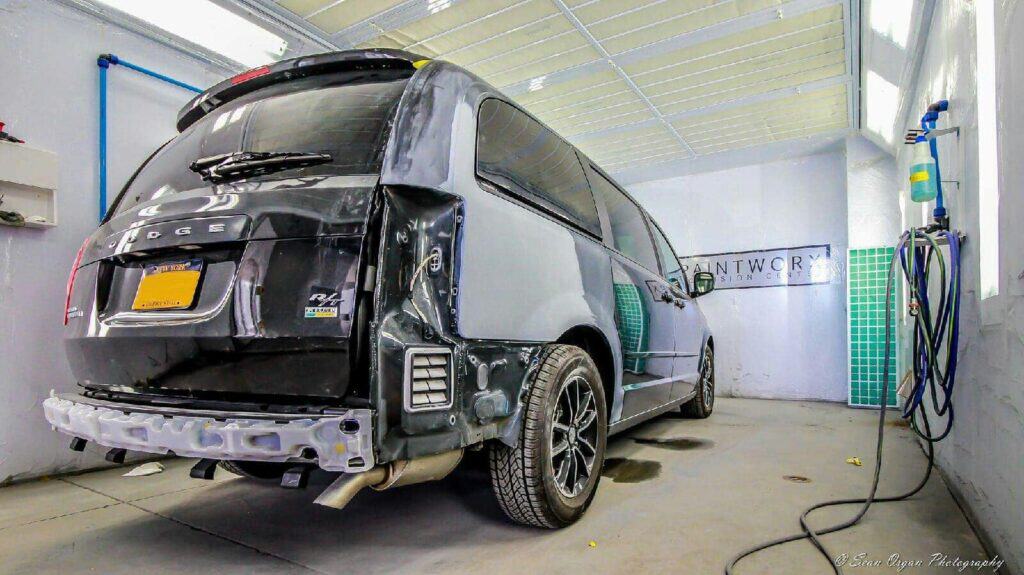 The highlights of the Accudraft Mix include:
Dual Skin Insulated Mixing Room
Custom Dimensions
Access Door
Positive Pressure Downdraft System
The Results
Dave Stumpf and the team at Paintworx view their Accudraft equipment as far more than a way to provide exceptional paint and body results to their customers. Owning this equipment marks the realization of a dream long in the works, and has been a great marketing tool —setting them apart from the competition by owning only the best tools for the job.
"Since starting in the collision field 22 years ago, I was always impressed with the quality and appearance of Accudraft spray booths. And now, owning my own successful collision center business, it was a dream of mine to someday own one of my own," says Dave. "I am happy to say that dream became a reality when I purchased not one, but two of these beautiful pieces of art. Paintworx Collision Center is extremely proud to have Accudraft in our facility."

Connect
Paintworx Collision Center
1175 Central Ave.
Albany, NY
(518) 512-3780
Connect with them on Facebook