A Family Tradition of Excellence
For Giannini's Auto Body Shop in Daly City, California, a focus on family and exceptional customer service has not only allowed them to stand out from the competition – it's a mantra that has driven nearly every aspect of their business. When it came time to select a new provider of paint booths for their growing facility, these ideals did not take a backseat.
Mike Giannini got his start in the collision repair industry while working in his father's shop from an early age. He branched out on his own in 2000 and eventually settled into their new 40,000 square foot facility last year. His 25-year-old son works as production manager for their growing team of 25+ employees.
Focused on customer service and care, Mike and his son believe that every vehicle should be treated as their own. What's more, if there is ever a mistake, they put their customers in a paid rental and fix the error immediately. Their team prides themselves on going out of their way to make a truly unparalleled experience for each of their customers.
The Challenges
When it came time to select a new paint booth provider for their facility, the father-son team wanted to deal with a company that shared these same ideals —while, of course, selecting the most robust and advanced technology available in the industry.
Enter Accudraft. "I considered several different manufacturers, but Accudraft's sales rep really sold me on their products. It's a great company, and they're very professional," said Mike in a recent interview.
Like Mike's shop, Accudraft is family owned and operated (founded in 1977), and Mike felt there was a strong connection between the two companies.
"When we had a problem, I contacted Accudraft and they flew a tech in right away to get it straightened out. I was really impressed with how well they took care of me."
How Accudraft Helped
The team at Accudraft recommended two Accudraft MX Downdraft paint booths and an Accudraft SS mixing room.
Accudraft's MX series paint booths provide the most options and flexibility when deciding what fits your shop best, and this was a great option for Mike's shop as they continue to grow. It was available in several configurations and as either single wall or dual skin. You can learn more about the MX series in this brochure.
The mixing room was another great addition to the setup, and allows code compliant areas for paint mixing and storage up to 150 square feet. Mike's team can mix paint, wash guns, and keep tools and hazardous liquids contained in one well ventilated area.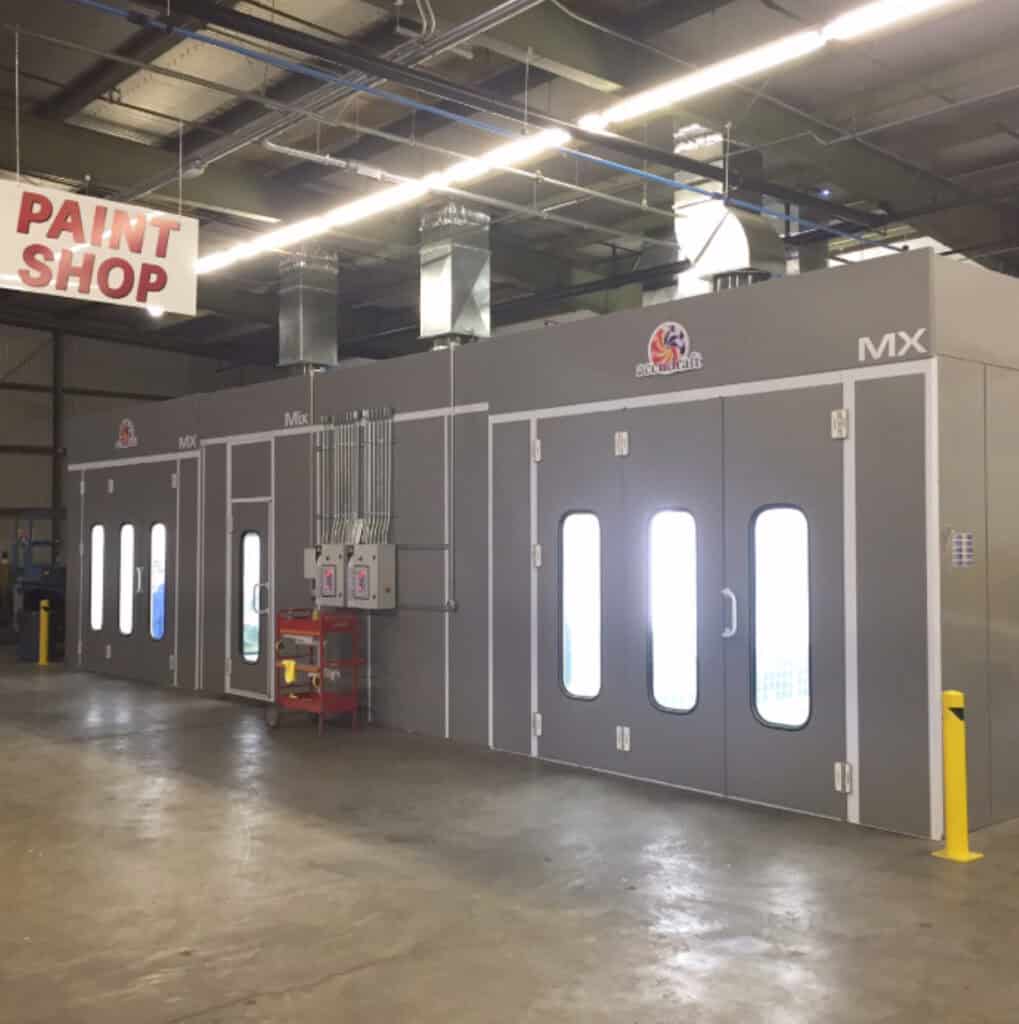 The Results
Today, the I-CAR Platinum shop repairs roughly 60 vehicles per week and is working towards obtaining OEM certifications thanks to their new paint booth capacity. In fact, they are also expanding their team —having hired an aluminum-certified employee to meet the increasing demands for aluminum repair.
"We are so happy that we chose Accudraft, not only for their exceptional product, but also for their commitment to family and customer service," says Mike. "Our new Accudraft equipment has helped increase our productivity and allows our team to focus on providing the best possible service and quality repair."
Connect
Giannini's Auto Body Shop
Mike Giannini
460 Talbert St.
Daly City, CA 94014
(415) 864-2644