French-Davis Collision handles auto and paint repairs of all sizes. Whether you have been in a major accident or just a minor fender bender, French-Davis Collision is equipped to handle your repair. Their team also offers updated paint jobs for older vehicles that have accumulated scrapes, scratches, and other minor imperfections. They pride themselves on always using the highest quality materials and the most up to date tools in order to ensure that every paint job is picture perfect. One of the ways that they have chosen to uphold these high standards is by upgrading their existing technology with newer Accudraft equipment.
French-Davis Collision is owned and operated by Brandon Davis. With many years of experience, they understand the ins and outs of the auto body repair business. Today, they employ a team of well trained, trustworthy employees that are committed to maintaining the high standards that the shop's customers have come to expect.
The Challenges
Like many businesses both large and small, French-Davis Collision has made a commitment to become more green. One way that they have chosen to do this is by switching to a waterborne paint. This shift helps to improve the air quality in their shop, both in and out of the paint booth areas. It also helps to improve the air quality in the community as a whole – something that is very important to French and Davis.
Another way to improve the air quality in your work area is to upgrade your paint booths. In order to minimize the chemical residue that is released into the air, French and Davis have chosen to upgrade their paint booths as well. That is where Accudraft comes in. We pride ourselves in finding the right paint booth for the job and we believe that we helped French and Davis find exactly what they were looking for.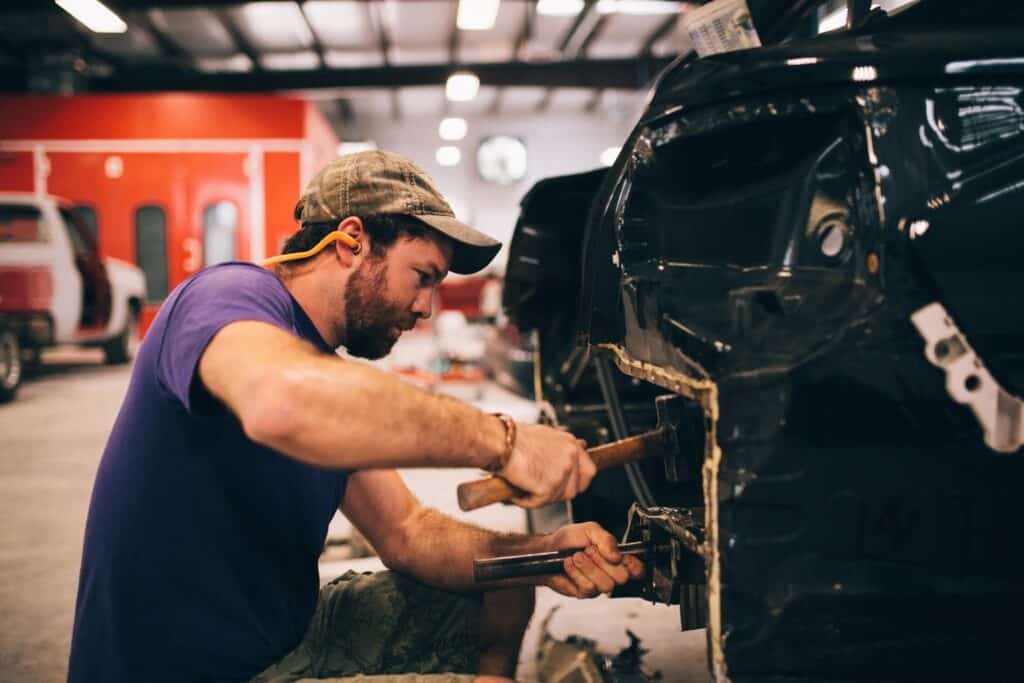 How Accudraft Helped
Our team at Accudraft refitted the shop at French-Davis collision. We provided them with 2 Accudraft Titan downdraft booths and a Chief Chassis Liner Frame Rack with Vector Computerized Laser Measuring System.
Our Accudraft Titan downdraft booths are the pinnacle of high speed finishing production. Equipped with the latest in spray booth technology, these paint booths will get the job done perfectly and in record time. They are equipped with a high powered downdraft airflow that will help you complete jobs more quickly while also keeping the air clear of debris and chemical residue. They are also optimized for waterborne paints, something that was high on the priority list for French and Davis. This high powered paint booth can save you both time and money by helping you to complete more jobs in less time.
In fact, some of our satisfied customers have reported a 50% decrease in their energy costs. This means that not only does this paint booth work well with the green, waterborne paints (a great, environmentally friendly alternative to traditional spray paints,) it reduces your carbon footprint even farther by using less resources to complete each task.
The other product that Accudraft supplied is a Chief Chassis Liner Frame Rack with Vector Computerized Laser Measuring System. Paint booths with a frame rack make it easy to perfectly align each vehicle before the operator begins to paint. If you are committed to producing consistent, high quality results using your automotive paint booth, you should seriously consider investing in a frame rack. French and Davis understand that consistent results are the key to customer satisfaction. Any shop owner will tell you that the best advertising is word of mouth, so a steady stream of satisfied customers is the easiest way to ensure that your business will continue to grow and flourish.

The Results
When the team at French-Davis Collisions installed their new paint booths, they quickly realized that these high quality, efficient tools have everything that they had been looking for. With their new equipment, the employees at French-Davis Collisions can service more cars in a shorter time without sacrificing quality or results. For years, French and Davis have been repainting cars, trucks, and SUVs. The owners of these vehicles love the consistent quality they receive, so they keep coming back for more. With their new equipment from Accudraft, this duo will uphold this high standard of customer satisfaction for many years to come.
If you are looking to upgrade or replace your industrial paint booth, you have come to the right place. Give us a call so that we can discuss what your company needs to thrive and how Accudraft can help.
CONNECT:
1815 N. Commerce Drive
Nixa, MO 6571
Phone: 417-725-8800
Fax: 417-725-8815
Email: [email protected]
Business Hours: Monday – Friday 8 am to 5 pm Visit their Website