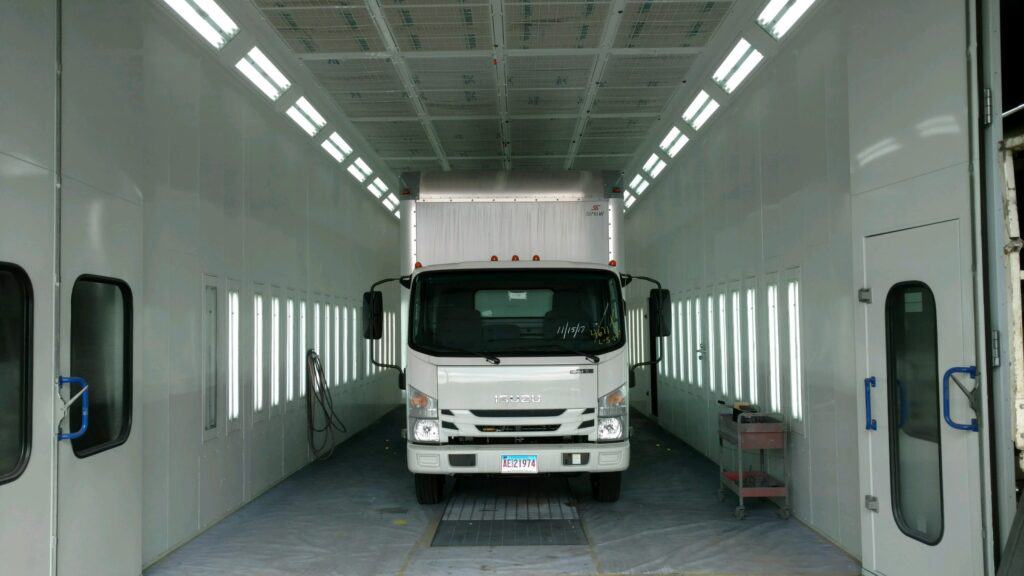 Barnick's Truck & Equipment can take care of everything from a simple color change to a major collision repair. Their goal is always to return your vehicle to the factory speculations, meaning that it truly will look as good as new when they are done with it. They have also worked extensively with Connecticut's car dealerships, municipalities, and other locally owned business to help them keep their fleet vehicles looking their best.
In fact, Barnick's Truck & Equipment can help with more than just repairs. Barnick's is a registered IEP, or intermodal equipment provider, with the FMCSA. This means that they are able to perform chassis modifications and other body installations onsite. Each modification is guaranteed to fulfill all government requirements, so you can rest assured that you are receiving a high quality repair or upgrade from Barnick's.
In addition to fleet vehicles, Barnick's Truck & Equipment has worked extensively on custom vehicles and truck bodies. Their work with custom vehicles means that they are equipped to deal with complex repair jobs and intricate paint jobs. The family owned business prides itself in a job well done and they are happy to take on repairs of all shapes and sizes.
The team at Barnick's knows that high quality equipment is the key to high quality repairs, so they strive to purchase only the best materials and machinery. Barnick's Truck & Equipment uses PPG Refinish Products in order to ensure that every project has the highest quality finish. This top of the line paint is then paired with a computerized measuring system to ensure that each paint job is picture perfect. Because they work with such a wide range of vehicles, the owners at Barnick's also have to ensure that their shop includes a paint booth large enough to accommodate a truck of any size.
The Challenges
Since Barnick's Truck & Equipment works extensively with commercial vehicles, their shop needs to be equipped to handle vehicles of all shapes and sizes. Because of this, they need a paint booth that can handle anything from a mid size sedan to a truck and trailer. That's where Accudraft comes in. In addition to a wide range of automotive paint booths, we also stock several top of the line industrial paint booths. These large scale paint booths can handle paint jobs of any size, which makes them ideal for businesses like Barnick's Truck & Equipment.
The only question is, which industrial paint booth is right for the team at Bernick's?
How Accudraft Helped
After discussing all their various options, the team at Barick's Truck & Equipment settled on an Accudraft TX Series Truck Paint Booth. This paint booth is easily customizable, so the team at Barnick's could get exactly what they needed. This paint booth has a large cabin that is fully lit from every angle, ensuring that the technicians will be able to work without having to compensate for any shadows.
This paint booth has the the option for heated makeup air to be used during the painting process. The booth's rooftop air unites makes it easy to adjust the temperature and humidity during painting, allowing for a smoother application process.
Once the truck is painted, the TX Series Truck Paint Booth can run a heated cure cycle. This helps to speed the curing process, meaning that you can finish each job more quickly. This allows businesses to paint more trucks in a shorter time period – something that is very important to many business owners.
One of our favorite features of the TX Series Truck Paint Booth is the roll up doors. These doors take up less space than standard bi-folding doors, allowing your business to maximize its work space. This paint booth also has the option to add a central roll up door. This gives you the option to divide your large, industrial truck paint booth into two smaller workspaces. This allows you to get twice as much work done when you have several smaller projects lined up. When you have a large project ready to go, this door can be tucked up out of the way so that you can use the full length of your paint booth.
The Results
The team at Barnick's Truck & Equipment has always produced reliable results, but their new industrial paint booth from Accudraft has made this easier than ever. The fully featured paint booth can help to automate process, allowing the team at Barnick's to complete more jobs quickly and produces a steady stream of satisfied customers.
Connect:
Barnick's Truck & Equipment
89 Stoddard Avenue
North Haven, CT 06403
Phone: 203.239.7369