Exoticars USA is based out of Milford, NJ and specializes in repairing and restoring high performance, exotic cars and rare automobiles. Since 1979, this team has been known for their ability to think outside the box to diagnose unusual problems as well as carry out any routine maintenance that a Ferrari, Lamborghini, Maserati, or Aston Martin might need. While these brands make up the bulk of Exoticar USA's business, they also work on English classic cars and other exotic cars.
In addition to providing engine repairs and routine maintenance for these cars, Exoticars USA restores older cars to their original glory and performs auto body repairs on newer models. In fact, Exoticars USA will take care of any paint and autobody damage that has been sustained by newer exotic cars as well as older, vintage models.
Exoticars USA offers door to door enclosed transport, ensuring that the car is protected during transport, stored indoors during the restoration process, and protected on the trip back to its owner. Clients from all over the Mid-Atlantic region take advantage of Exoticar USA's expertise, not just the nearby residents of New Jersey.
Exoticar USA's top of the line paint jobs are in part due to Accudraft's high quality, specialized equipment. Upgrading their equipment using Accudraft products has helped Exoticars USA to continue to offer the premiere level of service that their customers have come to expect.
The Challenges
Because Exoticars USA specializes in unusual repairs to vintage cars, their team frequently needs to work with suppliers around the world to ensure that the repairs are done with original parts or high quality replacements. It is often necessary to fabricate custom replacement parts. Their entire team is committed to providing high quality workmanship and flawless results, which means that they strive to purchases the best possible materials when working with these rare automobiles.
Once these replacement parts are fabricated, they need to be painted. A smooth, even, flawless paint job goes a long way towards making these replacement parts look as good as new. Exoticars USA is always looking to upgrade their equipment in order to provide their clients with the flawless results that they have come to expect. When it came time to upgrade their paint booths, Exoticars USA turned to our team at Accudraft. Together, we worked to come up with a plan that will ensure that Exoticars USA's paint jobs are better than ever.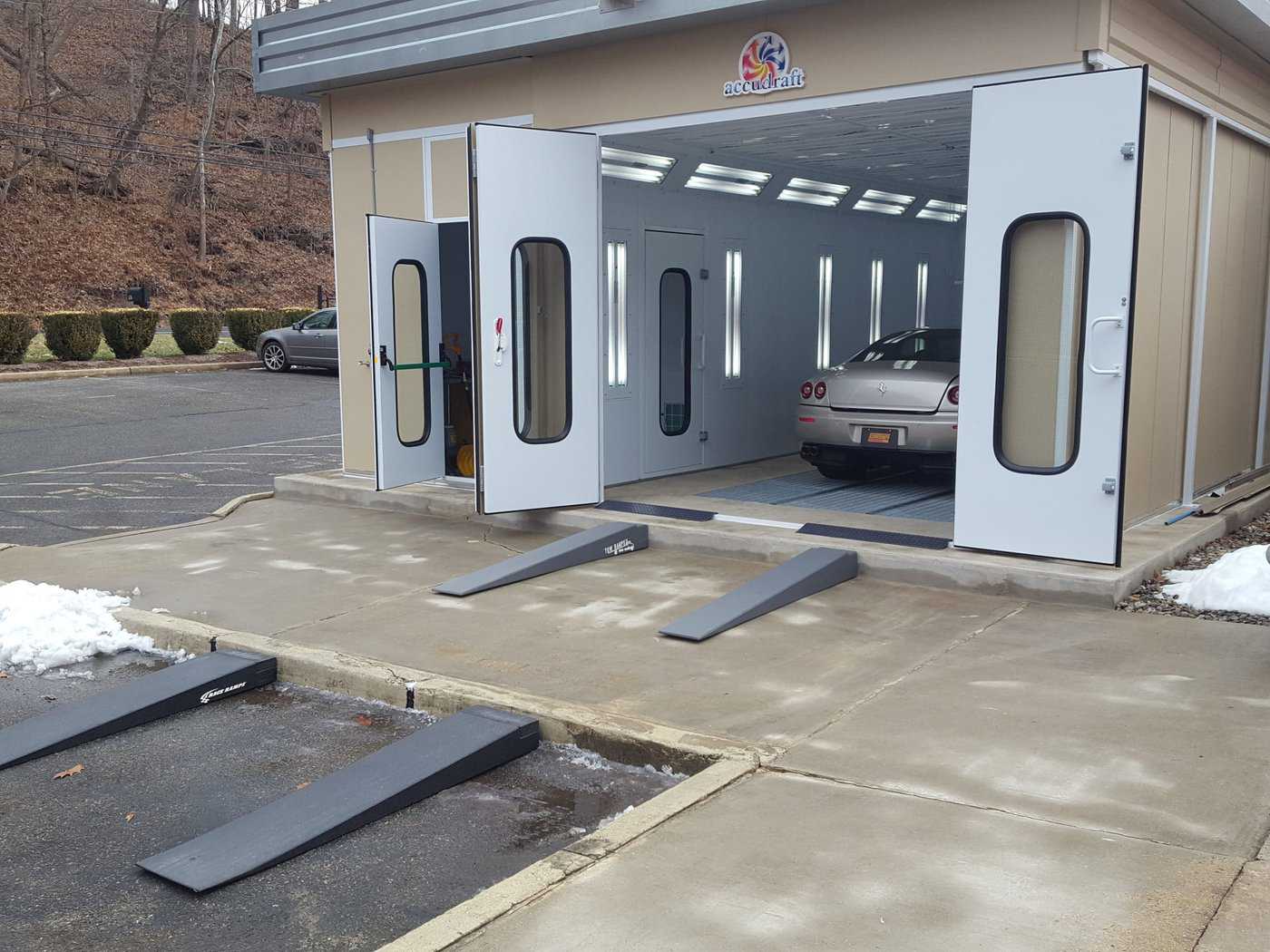 How Accudraft Helped
After exploring his options at multiple suppliers, Mr. Will DeGoot, the owner of Exoticars USA, decided to upgrade his paint booths using Accudraft equipment. He purchased an outdoor booth that was custom made to fit in with and match the existing building and landscape. Keeping a uniform look to the buildings and tools helps to improve the curb appeal of Exoticars USA and a custom made paint booth can be designed to fit in perfectly with the existing architecture.
While an off the shelf paint booth might work for many companies, a company as specialized as Exoticars USA often needs something custom made. Accudraft strives to ensure that every client receives exactly what they want and need.
Mr. Will DeGoot settled on an MX series paint booth. These paint booths are highly customizable, with options for semi downdraft, side draft, and downdraft configurations. Each of these air handling configurations are optimized for different types of work, but Exoticars USA opted for a downdraft configuration with a 3 row pit.
The downdraft configuration releases heated air from the ceiling that is then exhausted through vents in the floor, vents that are located under both the vehicle and the painter. While it is possible to find downdraft systems without a pit, Exoticars USA opted excavate a 3 row pit beneath the paint booth.
The MX series paint booths are available with a single wall or a dual skin. While both are good options, Mr. Will DeGoot opted for the dual skin model. This type of paint booth holds in heat better, maximizing efficiency by keeping the inside of the booth warm and the outside of the booth cool.
The Results
By working together with the owner of Exoticars USA, our team at Accudraft was able to craft exactly what the company needed. Exoticars USA's paint jobs look better than ever thanks to their brand new MX 600 Dual Skin paint booth. To learn how Accudraft can help you grow your business, contact one of our helpful team members today.
Connect:
Exoticars USA, LLC.
636 Frenchtown Rd
Milford, NJ 08848
Phone: 908.996.4889