Crawford Collision Repair Center has been providing world class service to customers in the El Paso, Sunland Park and Las Cruces area for more than 45 years. Predominantly known as a premier dealership where customers can find new and pre-owned GMC vehicles, this facility also manages a full-service department whose job is to keep vehicles running and looking like new. Factory-trained technicians and certified service specialists use state-of-the-art technology and equipment to complete a wide range of repair and maintenance services. The GM certified service department has the expertise necessary to take care of all GMC vehicles and offers anything from routine maintenance to critical repairs, to dent and collision repair – the goal is to take the stress out of servicing or fixing your vehicle.
This family owned business is highly involved in the community, focuses on providing excellent customer service and provides hassle free and honest pricing. High quality workmanship is a priority for the Crawford team, and they employ professional and knowledgeable staff to ensure all customer needs are always met in a timely manner.
The service department at Crawford is determined to restore a vehicle involved in an accident to its previous condition as quickly as possible, with limited time at the shop. The team constantly strives to provide transparent estimates, educated diagnoses and the highest quality repairs and service to their customers.
The Challenge
As Crawford Buick continued to build their reputation of being the go-to dealership and service department in the El Paso area, they realized they needed to elevate their facility with new equipment and technology. The new upgrades would allow technicians to work quickly and efficiently without sacrificing quality and customer service. Since dent and collision repair is a prominent part of their business, they turned to Accudraft for help in selecting the best options for their facility. The team decided to work with Accudraft because of our reputation within the industry and the unmatched quality of Accudraft equipment.
How Accudraft Helped
To help Crawford Buick reach their goals, Accudraft recommended two ITALIA downdraft paint booths and an AccuMix mixing room. The ITALIA is well known for its speed and durability – it is the paint booth in the Accudraft line that represents the gold standard for automotive refinishing. The construction of the ITALIA provides four times the seal of integrity of other paint booths, which makes it a very durable structure that will provide decades of non-stop daily operation and a maximum return on investment. The Crawford Buick team can take advantage of a multitude of features that include:
Superior build quality featuring welded steel door frames and heavy-duty hardware
Shadow-free daylight lighting
Full width ceiling filtration for proper ventilation
Heavy duty, SmartPadTM Digital controls
Adjustable vanes for even drafts to avoid dead spots
A dedicated unit with completely integrated intake, heat and exhaust for powerful airflow and heating capabilities
Unparalleled downdraft airflow
Clean and energy efficient system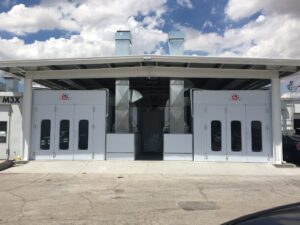 To complete their new state-of-the-art paint center, Crawford Buick selected the AccuMix Paint Mixing Room, which provides an approved space that both meets code and keeps things clean. This final addition helps to ensure the safety of technicians while also preserving the quality of the paint, and providing a dedicated space to store paint, tools and more.
The Results
The entire team at Crawford Buick is really enjoying the new Accudraft additions to their service department. They are able to expand their business and welcome more vehicles into the service department without sacrificing the level of customer service and quality that they are known for. The staff is enjoying the new technology and the incredible features of the paint booth, and they appreciate the newfound efficiency, which allows them to complete perfect paint jobs in a shorter period of time.

Accudraft  distributor in Texas

Ecotech Systems LLC  |  PO Box 3496  |  McKinney, TX 75069
214-616-8535
[email protected] Connect:

Crawford Buick GMC
6800 Montana Ave.
El Paso, TX 79925
Phone: 915 – 613 – 2033
Connect with them on Facebook
Visit their website