It's that time of year again where the biggest names in aviation meet in one place to network, learn about emerging trends in the market and view some of the latest and greatest technology coming out of the field of aviation maintenance at MRO Americas.
MRO Americas is hands-down one of the most important events in aviation maintenance, perhaps even one of the top events in the entire field of aviation. It attracts clients and customers from around the world who come to learn, promote, and expand their businesses, and we're happy to announce that Accudraft will be taking part in this important event.
Visit Our Booth at MRO Americas
Come visit our display at booth 320 to learn more about Accudraft products and what we have to offer in the field of airplane maintenance. Perhaps you've heard about our reputation as being one of the largest and most popular spray booth manufacturers across the United States for cars and trucks, but did you know that we also specialize in heavy machinery and industrial equipment? The Accudraft team even worked with cities in Southern California to build a large, completely custom workshop designed to paint railcars quickly and efficiently without sacrificing quality.
One of the things that makes our company stand out above the rest is our ability to adapt to any project. Simply put, there is no operation too big or too small for the Accudraft team to manage. We have a wealth of experience working with passenger cars, marine vessels, and we've even worked closely with the aerospace industry.
Our Accudraft team is committed to providing spray booths, mixing centers, and prep areas for any job. If you have a big project that involves large equipment like commercial airliners, we can help you come up with a completely customized workspace that suits your unique needs. Simply let us know what exactly you're looking for and we'll be able to help you put your plan into action.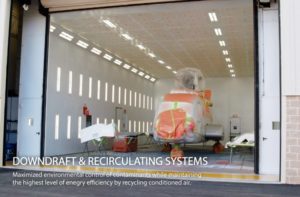 Aircraft Painting
When it comes to aircraft painting, there aren't many companies that provide the top notch service and quality that comes with Accudraft's top-of-the-line paint booth technology. We offer some of the most advanced systems on the market. We invite you to stop by our booth and learn about how we integrate technology into the workplace, and how you can use our computerized controls to regulate temperature, airflow, and even humidity levels so that you get the finished product you want. Unlike some of the other paint booth competitors on the market, we strive to give you more control over how you want to operate your paint booth.
After all, we at Accudraft understand that there is no one-size-fits-all model when it comes to paint booth technology, especially when dealing with sensitive machinery for airplanes and jets. For this reason, we've spent a lot of time and effort into designing fully-customizable paint booths that highlight usability, so beginning a new project is quick and easy.
The Commercial Aviation Event of the Year
MRO Americas is home to some of the most cutting-edge displays of aviation technology in North America. Come to learn more about Accudraft, but stay to see the exciting events on display at this exhibition. Some of the world's best and brightest minds in aviation maintenance and repair will be there, from Lockheed Martin to Boeing, and everybody in-between.
Companies like GE, IBM, FedEx and many more are also hosting conferences regarding smart technology and its implementation into aerospace maintenance. Simply put, anyone interested in airplanes shouldn't miss this event. There's even a military symposium, a maintenance completion, and golf tournament hosted by the event organizers.
Visitors who own companies that specialize in painting or repairing aircraft bodies are especially encouraged to visit booth 320 and learn more about how Accudraft can help them improve their job function. Our high-tech paint booths come with superior airflow and air filtration systems that actively work to prevent dirt, debris, and overspray from contaminating the paint. In addition, our state-of-the-art drying systems are powerful enough to speed up the overall painting process. However, they are delicate enough to protect the sensitive equipment in airplanes, helicopters, and various other kinds of aviation equipment.
We Look Forward to Seeing You
To learn more about how Accudraft's paint booth technology can help you improve your aircraft maintenance business, stop by booth 320 at MRO Americas and speak with one of our friendly professionals. We're happy to answer any questions regarding aircraft maintenance or any other types of projects that we've done over the years.
You're also welcome to contact one of our representatives directly to learn more about how Accudraft is the best choice for your business.