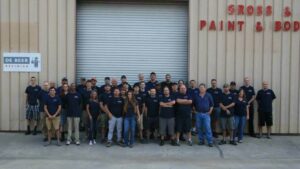 Background
With more than 70 years of industry expertise and happy, loyal customers, Gross & Son Paint & Body is a leading auto body shop in Pensacola, FL. The Gross body shop was established in 1947 by Leon and Lucille Gross and they focused on restoring automobiles of all makes and sizes. Whether a customer was in need of restoring a vintage vehicle, basic car repair, automotive detailing or collision repair – the Gross body shop was a top choice in the area. In the early 1960s the shop moved to "V" street where the team focused on specializing in Volkswagen body repairs. In 1972, Terry Gross joined the family business and embarked on a mission to continuously expand and improve the facility, which spans over 30,000 square feet. Throughout the years Gross & Son Paint & Body has always been committed to investing in the newest state-of-the-art equipment at the shop and providing the finest customer service.
Gross & Son Paint & Body has made it a priority to maintain their factory and dealer certifications so they can accept and work with cars of all makes. The shop is certified to repair GMC, Cadillac, Buick, Honda, Hyundai, Kia, Audi, Dodge, Chrysler, Jeep, Infiniti and Nissan.
Gross & Son Paint & Body Shop has been in the business of taking care of cars since 1947, some of their top services include: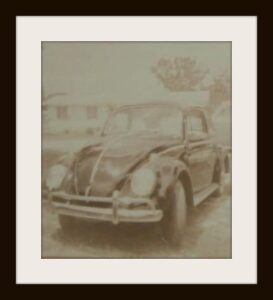 Collision repair, including free estimates, parts replacement, precise auto body repair and computerized paint matching.
Automotive detailing with light wash, debris removal, overspray removal, interior and exterior detail and professional buffing and waxing.
A 24/7 towing service for customers involved in an accident or if a vehicle breaks down on the side of the road.
On-site car rental with a wide range of vehicles to choose from, including sedans and SUVs.
Glass repair and windshield replacement
Post repair inspection to ensure that everything is always perfectly done, and that the customer is always 100% satisfied.
The Challenge
The challenge of running a successful business for more than 70 years is to continue to maintain a spotless facility that allows staff to perform high quality service in a timely manner, while also continuously providing top notch customer service for loyal and new customers alike. For the last 30 years the Gross auto body shop has been committed to continuously investing in new state-of-the-art equipment and expanding the business to be the best that it could be. In order to maintain a certain level of service during an expansion, the team needed guidance on selecting the finest machinery to uphold work quality, but also be a sound and smart investment for the business.
How Accudraft Helped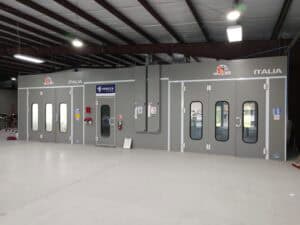 To enhances and complete the Gross & Son Paint & Body shop, Accudraft provided four ITALIA downdraft paint booths along with a professional paint mixing room. The ITALIA is Accudraft's flagship downdraft paint booth system that is specifically design for high production – ideal for a leading shop with more than 70 years of industry experience. The ITALIA features a strong airflow and super-fast curing speeds, which makes it an ideal addition to a shop that works with auto body and collision repair. An added benefit of this paint booth is that the operating body shop can look forward to a more compact footprint and maximum energy efficiency since recycled direct fire heating allows the unit to reach hotter temperatures faster. A mix room completes the set up at the Gross auto shop, providing a compliant and clean area for paint mixing and storage. The expansive facility is now equipped to handle numerous jobs at once with an abundance of space and the ultimate tools for staff to perform high quality jobs in a timely manner.
The Results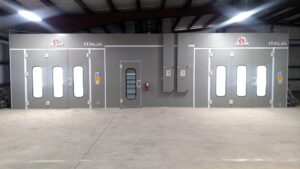 Gross & Son Paint & Body is a family owned facility with a strong legacy, but one that is committed to always providing the best for their customers. With the addition of the new Accudraft units the auto body shop can continue to operate as usual, take on additional clients and provide the best results for ultimate customer satisfaction.
"Accudraft refinish systems are second to none in the auto collision industry – they have been first class from start to finish. Thank you from the Gross & Son team!" – Eddie Kelly, Manager
Connect:
Gross & Son Paint & Body
2708 W. Hatton St.
Pensacola, FL 32505
Phone: (850) 434 – 5309
Connect with them on Facebook
Visit their website
Sold & Installed By:
Chris Davis
CSD Spray Booths
Tuscaloosa, AL
205-337-1008