Building Quality from the Ground Up
A family owned and operated business, China Spring Collision & Restoration prides itself on providing high quality repairs on a timely basis. Keeping customer satisfaction and top-notch service at the forefront of their business model, China Spring Collision & Restoration even provides text and email messaging reports to their clients throughout the repair process.
With humble beginnings as a one-man show, owner James Hill and his wife worked tirelessly to grow their business in the China Springs community. Today, China Spring Collision is a state-of-the art facility servicing all makes and models. Their services include:
Automotive glass replacement
Detailing
Free estimates
Insurance company assistance
Lifetime warranty
Motorcycle repair
Paintless dent repair
Towing
"The best part of our family-owned business is looking back where we started. We were a small shop and I was a one-man show with my wife working a full-time job coming home in evening and doing paperwork for me —to now, being in a state of the art facility with six full time techs," said James Hill.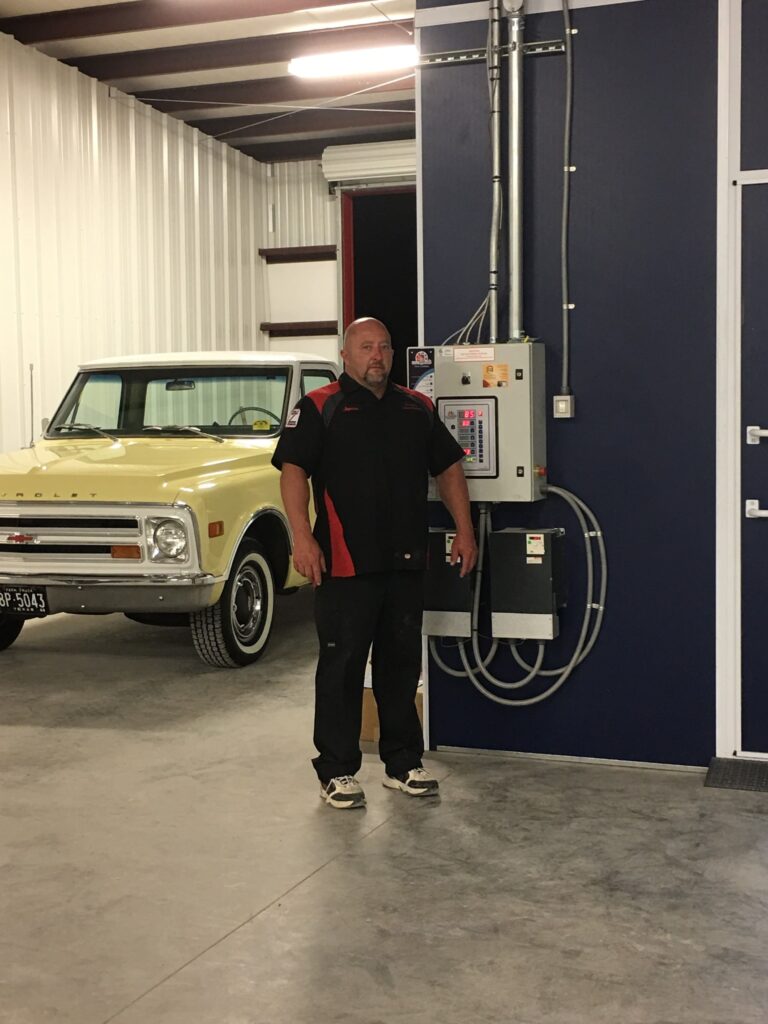 The Challenges
When it came time to build and outfit their new shop, James knew that having the highest quality equipment would mean a better work environment for his technicians and an exceptional experience for his clients. After doing extensive research and speaking with other quality shop owners, James turned to Accudraft.
"We chose Accudraft because, during my research of booths, I spoke with many people and Accudraft was always recommended. This new facility was a large investment for us so I wanted to, and made a point to, talk to every experienced quality shop owner and manager, including painters. These individuals, over their many years, have used different booths and they all spoke highly of the Accudraft quality and the service provided by them. And when I asked them which one they would buy, the vast majority all said Accudraft," said James Hill.
How Accudraft Helped
Building the shop from the ground up gave James the opportunity to outfit his shop exactly as he had envisioned. The Accudraft team suggested a MX600 Downdraft Dual Skin booth, which represents the value and performance that mid-range production shops can utilize to produce downdraft quality finishes with fast curing capabilities.
Highlights of the MX600 include:
Downdraft
Single Skin or Dual Skin Insulated
Industrial Strength Vinyl over Galvanized Construction
Accudraft Blu™ Textured Vinyl Exterior (Dual Skin Only)
Ultra-White™ Reflective Vinyl Interior
All doors include integrated red locking handles
All doors include full-height observation windows with wire-mesh reinforcement
1.2 Million Btu/hr Heating system. Natural Gas or Propane. Full heat recirculation (Minimum 15% fresh air by code)
Eco Tech Systems, LLC, which installs and services automotive spray booths throughout Texas, Oklahoma and Louisiana, installed the booth at the China Springs facility.
The Results
Today, the China Spring Collision & Restoration shop is fully operational and is servicing clients with vehicles of all makes and models. The Accudraft MX600 has allowed James and his team to provide best-in-class service and product to their clients, and they're continuing to see the benefits from having such exceptional equipment in their facility.
Connect
China Spring Collision & Restoration
12530 China Spring Road
China Springs, TX 76633
(254) 836-5291