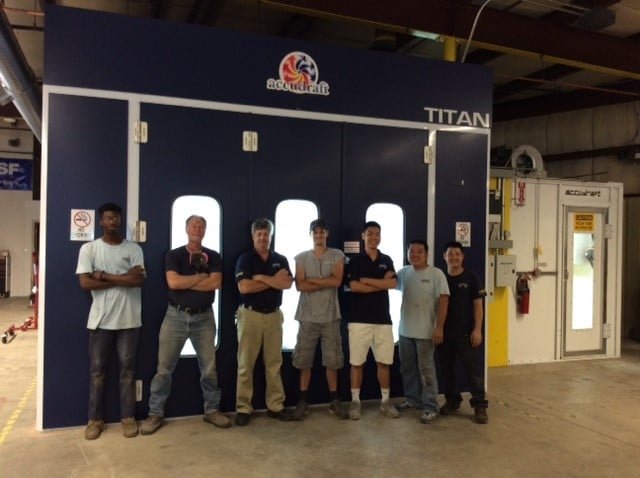 Located in Chelmsford, Massachusetts, A+ Auto Body is a full-service collision repair facility that prides itself on offering customers a truly unparalleled experience centered around honesty, quality and workmanship. To achieve this goal, they employ only the most highly trained professionals, equip them with best-in-class technology and equipment, and facilitate and recognize their performance.
Active in their community, A+ Auto Body is also fluent in Chinese —allowing them to serve a greater pool of clientele.
Their full range of services includes:
Auto Body Repair
Scratch and Dent Repair
Frame Straightening
Hybrid Vehicle Auto Body Repair
Foreign Auto Body Repair
Collision Repair
Auto Paint Service
A+ Auto Body strives to put clients' cars back in "like new" condition as quickly and efficiently as possible, with limited downtime and interruptions to their daily life. They will work hand-in-hand with the client's insurance company, as well as help facilitate rental car arrangements.
The Challenges
When it came time to purchase new equipment for A+ Auto Body, President Gary Yip turned to Accudraft for the quality, state-of-the-art equipment they needed to continue providing the unparalleled service they have become known for.
"Part of our differentiation in the market is our ability to provide unmatched repair quality. Our clients are trusting us with one of their most important and valuable assets, and we want to ensure their expectations are not only met, but exceeded," said Yip. "Accudraft equipment empowers our technicians and gives them the state-of-the-art tools they need for success."
As with any paint booth equipment purchase, budget and size restrictions were a concern, as was finding a paint booth and mix room that would help increase A+ Auto Body's capacity.
How Accudraft Helped
An Accudraft Titan Downdraft Paint Booth was chosen to help increase A+ Auto Body's production capacity. Boasting the ultimate spray booth technology and high speed finishing production, the airflow and workspace conditions are engineered and optimized for the latest love VOC and waterborne paints on the market today.
The Titan allows for unmatched downdraft airflow and contamination control, which helps produce fantastic results faster, while EnergySmart technology will save A+ Auto Body time and up to 50% on their energy costs.
Accompanying the Titan would be a three-sided, attached Mix Room for paint mixing and storage. A+ Auto Body's technicians would now have an optimal location to mix paint, wash guns, and keep tools and hazardous liquids contained —all in one well ventilated area.
"The team at Accudraft stands for the same principles of hard work, integrity, quality and craftsmanship that we do here at A+ Auto Body," said Yip. "The entire process from equipment selection to installation was seamless."
The Results
Nick Simard, a master paint technician for A+ Auto Body, is thrilled with the results they've been able to achieve with the new equipment and notes there are some unexpected features their team has come to really appreciate.
"We selected the Titan paint booth and mix room because of their efficiency and affordability," said Simard. "However, our team has come to love some unexpected features, such as how quiet the booth is, the great lighting and the very user-friendly control panel. The well-insulated cabin is also a plus for our team because no heat radiates outside the booth into the shop. Everyone appreciates that on these hot summer days."
Not only has A+ Auto Body been able to maintain their reputation for unparalleled quality and workmanship, their team is enjoying the new equipment and their energy costs are down.
They look forward to a continued working relationship with the entire Accudraft team.
Connect
A+ Auto Body
10 Wesley Street
Chelmsford, MA, 01824
Phone: (978) 452-0602
Sales: (978) 452-6332
Gary Yip, President
http://apluschelmsford.com/