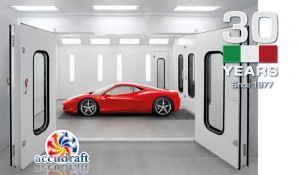 Accudraft has one of the deepest and most customizable lines of spray booths in the industry. No matter what kind of automotive, industrial, or truck spray booth that you are looking for, chances are that our diverse product line features something that meets your needs. But what happens if you have a need for a paint booth with unique features that you can't find on our website?
The good news is that you don't have to worry – Accudraft can help you no matter how specific your needs are. Accudraft is committed to meeting the requirements of all of our customers and that includes going the extra mile. If this means that we have to customize our products to meet your exacting specifications, we're happy to do it if it means that you'll walk away a satisfied customer.
Our system designers can build a custom system with your requirements in mind. So if you need a special size for your truck paint booth or options that aren't typically part of the model you are interested in, we can help you out. Contact us today and let us know what you're looking for and we'll start working on the perfect solution.