General
The Accudraft Italia™ downdraft automotive paint booth is Accudraft's flagship paint spray booth system designed for high production. With a 30 year reputation for speed and durability, the Italia continues to be one of Accudraft's most demanded automotive paint booths. The Italia is available in a three-row downdraft pit or pitless downdraft design and includes Accudraft's Timeless™ Direct Drive air makeup unit with heat recycle. Horizontal upper and lower lights provide outstanding illumination inside the paint booth and Heavy Duty Pushbutton Controls are ready for decades of non-stop use.
Product Photo (above): Accudraft Italia™ downdraft automotive paint booth w/three-row downdraft pit design & Timeless™ direct drive air makeup unit.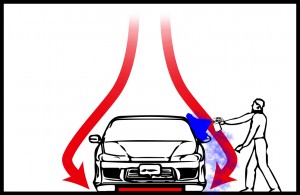 Downdraft Paint Booth Airflow Concept
The biggest advantage to a downdraft paint booth is cleanliness. Air is drawn around the vehicle or painted object and exhausted from underneath the object. Downdraft paint booths pull paint over-spray and contaminants downward and away from the painted object no matter where the painter is spraying. The risk of dust and over-spray contamination in the finish is greatly reduced and the painter is also in a much healthier and safer environment.
Features
The Timeless™ Direct Drive air makeup unit is a completely integrated intake, heat, and exhaust system designed for high production downdraft paint booths. Direct drive turbines provide powerful airflow through the paint booth and recycled heating provides fast heat & curing capabilities with maximum energy efficiency. Painters can put more jobs through the paint booth and generate more profits for your business. more >>
 
The Accudraft SmartPad™ is a digital touch pad controller that includes all processes in one computerized unit. Settings include adjusting cycle time, temperature, waterborne system activation/deactivation, lighting settings, burner control, heat intensity and reaction time based on season of the year and much more >>
Options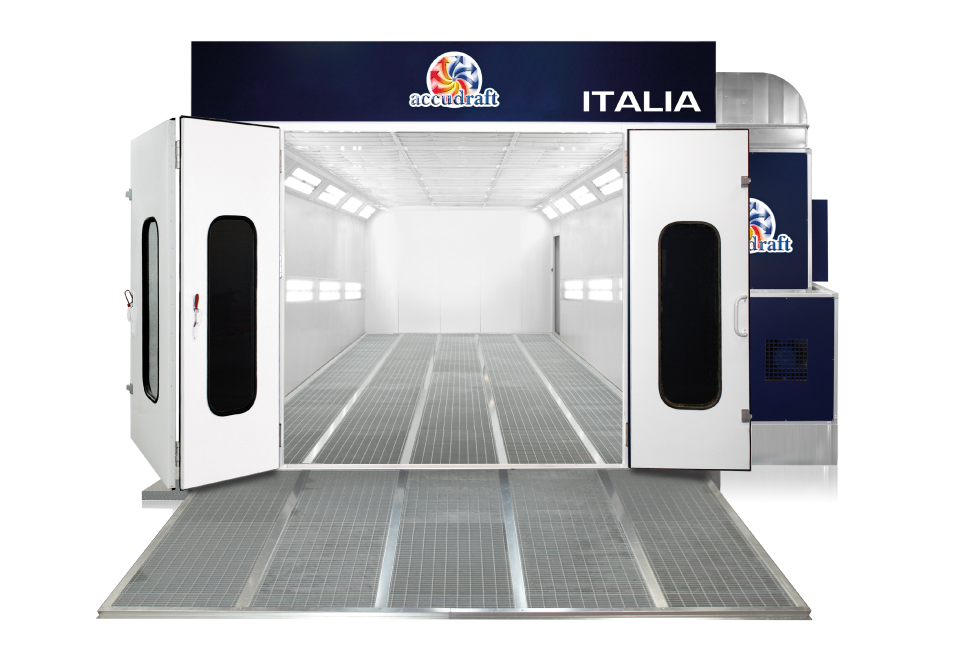 Pit-less Downdraft 
The ITALIA paint booth system is also available in a pit-less downdraft design where the entire paint booth and mechanicals are installed on a raised steel basement with drive-up ramps. This  provides all the benefits of a downdraft airflow paint booth system without the need for expensive concrete work. A fully grated floor provides one of the cleanest finishing environments available.
The ITALIA paint booth system is available as a weatherproof outdoor unit with all elements self contained within the roof and adjacent enclosure. Valuable shop space is saved and installation downtime is completely eliminated. The entire system can be installed while the rest of the facility keeps right on working. more >>
Highlights:
14,000 CFM – Timeless™ Direct Drive Mechanicals
Dual Skin Insulated
Industrial Grade Vinyl over Galvanized Construction
Textured Vinyl Exterior (Choice of Four Standard Colors)
Ultra-White™ Non-Reflective Vinyl Interior
1.2 Million Btu/hr Heating system. Natural Gas or Propane
Options: